Leave a Lasting Impression with a
Professional Childcare Website
Reach more families faster with a website that's tailored for maximum visibility
Skyrocket conversions and connect with families by creating a website designed to meet their needs
Outshine the competition with a website that showcases your unique value proposition
My website conversion rate is __%
Answering this question will set you apart from about 95% of childcare owners when it comes to understanding your website's performance and, more importantly, how much revenue your website generates.
Conversion rate is the key to success on your website.
Childcare websites have an average conversion rate of 2%, but with a conversion-optimized website, you could get 5%+.
Imagine the difference that could make each month: 50 enquiries per 1000 visitors instead of 20, leading to a potential increase of $45,000* in annual revenue – each month!
Don't miss out on this opportunity to take your centre to the next level. Click the button below to learn more about how a conversion-optimised website will benefit your early learning centre.
*The average enrolment cost is $15,000 per year. So at a 5% conversion rate you'll enrol 5 families x $15,000 = $75,000 vs. 2 x $15,000 = $30,000, so if your website only converts 2% of visitors, you're losing $40,000 per month!
Get An Optimised Childcare Website Built For Lead Generation And Conversion Success
Get the game plan of how your website supports your marketing stratgy
Our prebuilt, easy-to-use email marketing templates are designed specifically for childcare centres like yours. These professionally designed emails help you increase enrolment, keep parents informed about their children's progress, promote new programs or services, send out monthly newsletters and much more! Best of all – they're really simple to use with our drag and drop editor. No design skills required!
Effortlessly drive conversions with website marketing automation
With Airchild integrated into your website, you can automate key website functions such as lead generation, email marketing, phone answering, SMS campaigns, and customer segmentation. This allows you to focus on running your centre while still exceeding expectations from families. 
SEO-FRIENDLY WEBSITE STRUCTURE
Improve your search engine results with an SEO-Friendly website structure
Make your childcare website the best it can be by optimising its structure for search engine success! With an SEO-friendly design, you'll ensure that all of the parents in your area find their way to your doorstep.
PROFESSIONALLY DESIGNED WEBSITE
Say goodbye to outdated designs and confusing navigation
Say hello to modern childcare website designs and smooth sailing navigation! Goodbye clutter, goodbye chaos – it's time for sleek visuals with easy-to-navigate interfaces. You'll have a beautiful website that will make your competitors green with envy while your site visitors can't help but reach out!
Turn website visitors into enroled families with effective sales copy
Capture the hearts of parents with persuasive sales copy that encourages enrolment.
Sales copy is the key to turning website visitors into enroled families! By using persuasive and emotional language, we can help you convince them that your childcare program is the best choice for their family.
RESPONSIVE WEBSITE DESIGN
Never worry about your website looking good on different devices ever again
You never have to worry about your website appearing flawless on any device. Airchild's team of experts can help you create a responsive, user-friendly design that looks great no matter the device or screen size. Our designs are optimized for the latest devices and browsers to ensure your site visitors have the best possible experience.
Make data-driven decisions that grow your centre with Google Analytics
Take the guesswork out of your business decisions and let Google Analytics provide all the data you need to make smart and informed choices.
You can track website visitors, understand their behavior, segment audiences, monitor conversions, and measure performance. With access to real-time data, you can quickly test strategies, gain an understanding of visitor trends and preferences, and optimize your website for maximum success.
Let parents easily schedule tours straight from your website
Airchild's mobile-friendly tour booking calendar can be embedded anywhere on your website, making it easy for parents to find and book a tour. Plus, our simple booking process makes it easy for parents to schedule a tour without having to call or email you.
Check Out Our Amazing Portfolio of Childcare Websites and Landing Pages


Childcare Centre
Success

Stories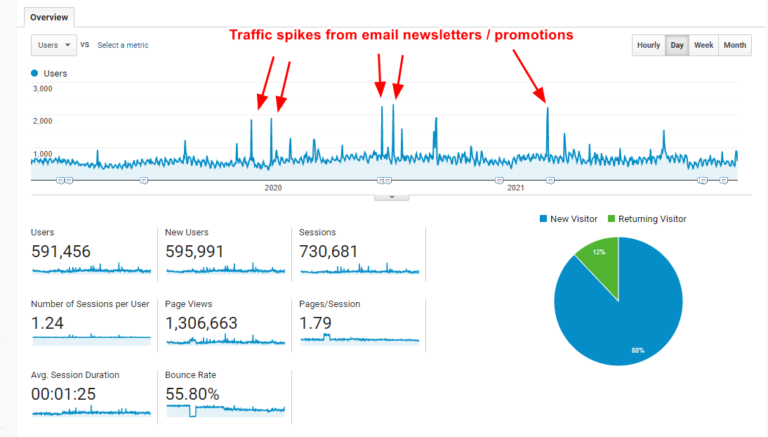 Boost Your Website Traffic with Email Marketing Share on facebook Share on twitter Share on linkedin Share on pinterest This...
Unleash the full potential of your website!
Are you tired of a generic, cookie-cutter website that fails to convert visitors into leads? It's time to upgrade to a direct response design that will set your childcare center apart from the competition and skyrocket your enquiries. Don't settle for average, contact us now for a free quote.
What do Childcare
Owners say

about Airchild
Our customers love what we do
Read what Airchild means to other Childcare Businesses like yours.
Other Airchild features that'll help you
manage your centre

a breeze!
Take off with Airchild
Partner with the world's first hybrid childcare digital marketing agency & software solution to take your enrollment and profitability to the next level.