The only system your team will need to keep
your parents happy.
Gain access to an extensive knowledgebase which is available 24/7
Get your questions answered via a live chat with the friendly Airchild support team
Keep your team happy with extra support when they need it most
It's like having an extra set of hands on your team.
You've probably been there before – you have a question but don't know who to ask or where to start. It's tough to find the time to get everything done, let alone search for an answer to a question that you don't even know how to ask. And then you spend hours trying to find the answer on your own, or worse yet, give up and put it off until later.
Airchild has the solution. We provide robust support that is always available when you need it. With our reliable knowledgebase and live chat customer support team, you can easily find the answers to your questions without wasting time.
Ensure efficiency for your team with multichannel support from Airchild
So you're in a hurry and don't want to waste time? Great, because we've got the answer.
All it takes is one message and we will take care everything else. Airchild gives you multiple options on how you can easily get the information that you need through a self help knowledgebase, email, call, or website chat. Less time worrying and more time taking care of children.
The future of communication 🚀
If you find yourself constantly on the go, Airchild wants to make life easier for you. With the latest innovation, phone calls can now be answered not just with your mobile but even through a web browser!
With this new service it doesn't matter where you are–connecting with families has never been easier than this, making your childcare life as convenient possible. No more missed calls while you're away from your phone. Airchild has you covered.
PERSONALISED RESPONSES 24/7
We take care of you so that you can take care of your families
Customer satisfaction is one of the most critical success factors for any childcare centre. 
With Airchild's integrated communication channels and automated workflows,  your centre will exceed parents' expectations in no time.
From questions about enrolment or tours to applying for various job openings, Airchild delivers personalised responses that ensure everyone is responded to promptly and accurately. 
🎥 Choose your own adventure
Airchild offers a wide range of solutions for every customer service need, from simple chat messaging via SMS to interactive videos on your website. Provide parents with instant replies or a digital companion that will always be there for them when they need it. With these solutions, you can easily connect with parents in real time.
Whether you're looking into building relationships with parents or want an AI partner that never takes a day off – Airchild has got your back!
CUSTOMER SUPPORT ANALYTICS
🦉Get a bird's eye view of team performance
Keep your team on the right track with integrated customer support analytics. See your top performers and those needing a little help to engage families proactively.
One of the key benefits of Airchild is its ability to provide real-time data and insights. This allows you to make data-driven decisions about how to optimise your customer service processes and to identify trends and patterns that may not be immediately apparent.
Airchild is the right solution to help your team deliver an amazing experience to new and existing families.
MEMBERSHIP & TRAINING COURSES
👩‍🎓The secret ingredient to childcare success
It's no secret that you build trust through education, and with Airchild, you get your own membership and training LMS that you can fully brand to offer free and paid courses to staff and families.
Experience the LMS first-hand with Airchild's own training course, packed with knowledge and skills that will make your team feel like childcare pros. From managing tour bookings to parent nurturing, we've got you covered. Plus, our modules are easy to understand, so your staff will be up and running in 2-3 hours.
Childcare Centre
Success

Stories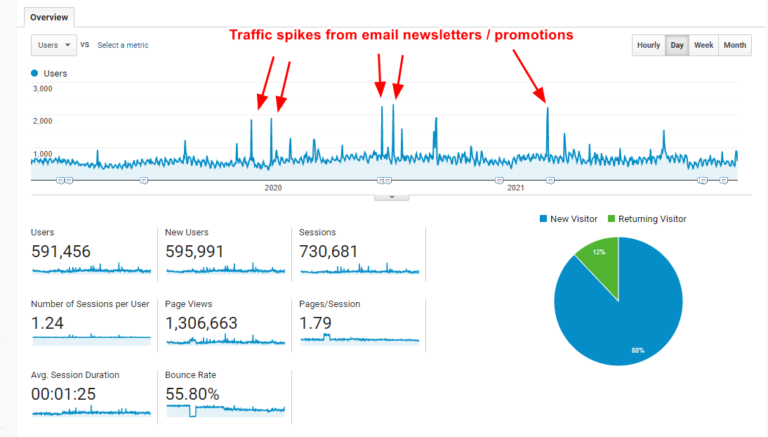 Boost Your Website Traffic with Email Marketing Share on facebook Share on twitter Share on linkedin Share on pinterest This...
What do Childcare
Owners say

about Airchild

Our customers love what we do
Read what Airchild means to other Childcare Businesses like yours.
Other Airchild features that'll help you
manage your centre

a breeze!

Frequently Asked Questions
Do you have ready-to-use email templates?
We sure do! Airchild has 180 copywritten email and SMS templates ready to use, saving you thousands on copywriting costs. While some of the emails can be used as they are, others will need to be tailored to meet your specific needs during onboarding. Additionally, Airchild lets you create new email templates, which you can learn how to do during our certification program.
Can I adjust the email campaigns myself?
You sure can. If you are used to Mailchimp, the Airchild editor will be very familiar to you. Before we launch any email marketing campaign for you, we will confirm the email campaign goals, discuss the offer or copy, and confirm the creative assets. You will also learn how to create and edit email campaigns by yourself with Airchild's self-paced training courses.
Can I see the email campaign performance?
Within Airchild, you will have access to your own statistics dashboard for each email campaign. As a result, you can quickly assess the effectiveness of your campaigns based on successful deliveries, open rates, click-through rates, and bounce rates, and make any necessary adjustments accordingly.
Is it possible to import email campaigns from another platform to Airchild?
With the import template option, you can import existing email templates from other platforms like Mailchimp directly into Aichild's editor.
Can you help us with email deliverability?
Our friendly support team can help you increase the deliverability of your email. They are skilled at tuning your email settings to ensure optimal delivery. We can also run deliverability tests to confirm your deliverability score before you send so you know you'll reach the maximum number of subscribers.
What is the meaning of email deliverability and open rates? Why are these so important?
Email deliverability measures how many emails arrive in parents' inboxes out of all the people you sent them to. 95% and higher is considered good deliverability. You would consider an email campaign's metrics to be good if they were in the range of:
Delivery rate > 95%
Open rate > 20-30%
Click through rate (CTR) > 2-3%
 
You will never know how engaged families are if you write a long newsletter without links to blog articles or calls to action. If you want to track how many people actually click through to your website rather than just opening the email, consider breaking it down into small teaser sections with links to the main article or having at least one main call to action link. We recommend that you post your newsletter as a blog article so you will benefit from ongoing SEO benefits instead of 24-hour burst of clicks.
Take off with Airchild
Partner with the world's first hybrid childcare digital marketing agency & software solution to take your enrollment and profitability to the next level.