How Airchild Lead Management can
help your childcare centre
Lead Tracking
Stay one step ahead of your leads through our collaborative lead tracking system.
Parent Campaigns
Prebuilt parent nurturing campaigns using SMS, email, phone, Facebook, GMB, WhatsApp & Insta.
Increase Enrolment
Increase child enrolment with a tested and proved lead management process.
How can a childcare business benefit from a
Lead Management CRM?
Many childcare centres and daycare centres struggle to convert parent enquiries into enrolments. 79% of childcare leads don't turn into enrolments. A lack of an effective lead nurturing process is the most common reason for this poor performance.
Childcare businesses that automate lead management see a 20% or greater increase in revenue in 3 months. Airchild is a complete lead management system specifically designed for childcare businesses with integrated CRM, sales and marketing automation tools that help you stay on top of your business.
This helps your childcare generate more enrolments from qualified leads and get to 110% occupancy faster! By using this easy-to-use lead management tool, managing the entire sales cycle becomes seamless, more efficient for the entire team, and provides a better overall customer experience.
Airchild's Lead Management at a glance
Say goodbye to post it notes 🗒️
Airchild streamlines all your contacts, bookings, tasks, emails, SMS, calls, DM's, WhatsApp's and
everything else

ending in an S
Streamline all of your childcare leads with an intelligent Lead Management System. It's designed to keep your team on the same page and families engaged with personalised nurture sequences that fit their time frames.
Stay organised and on top of your game while automating the parent enquiry to child enrolment journey, so that no parent is left behind.
Welcome all new leads auto-magically
Use smart automations to provide a warm welcome to every lead that arrives at your website and immediately start building trust without having to lift a finger.
E.g. It's 8pm, the kids are in bed and Jane responds to your Facebook Ad, a few minutes later she has a voicemail from your centre director thanking her for her inquiry and letting her know the next steps. She feels connected to this centre already.
Ready to go, copywritten nurture campaigns parents will love
Lets face it, most childcare centres have one ho-hum autoresponder and then…crickets 
Not on our watch! Quickly tweak our professionally written nurture sequences to ensure that every lead
experiences a consistent stream of engaging content. 
Keep your brand front of mind through the parents' decision-making process.
Tour booking so powerful it could run a Justin Bieber concert🍑
Deliver a seamless childcare tour booking experience using either a traditional calendly type booking system or lift your game and use the latest SMS Al booking allowing parents to have a virtual conversation 24/7 and find a time that suits them and your centre.

Needless to say the entire tour booking workflow can be customised to your exact needs using the drag and drop workflow builder.
INTERACTIVE CONTACT REPORTS
Contact reports that play nice
Slice and dice the contact records to your hearts content and create saved reports just for you or make them available to select team members.
E.g. Show me all the parents that have booked into the Mums and Bubs group then send them an SMS to let them know to bring a friend – too easy 🥱
Skip the nightmare of having to communicate with parents through multiple channels.
We solve this problem by giving you a single dashboard where all your messages are organised in one place.
Now you can send mass texts, voicemails and emails from one screen without having to log into different apps for each channel.
Keep your leads close and your team connected
Never miss an update and stay on top of your leads, opportunities and tasks with the Airchild Mobile App. Get real-time notifications, check on tour bookings, make recorded calls within the CRM, and respond to parents faster than ever before.
With the mobile app, you can get immediate access to leads information and communication events from anywhere. It doesn't get any easier than this.
See your star performers ⭐
Mix up the daily routine with a bit of competition and fun between your team members while making sure that everyone is using the CRM to the best of their ability.
Airchild comes with a leaderboard reporting which allows you to monitor which team member has driven the most enrolments and who is making the most from Airchild's communication features. You can reward top performers or assist those that need more training.
Childcare Centre
Success

Stories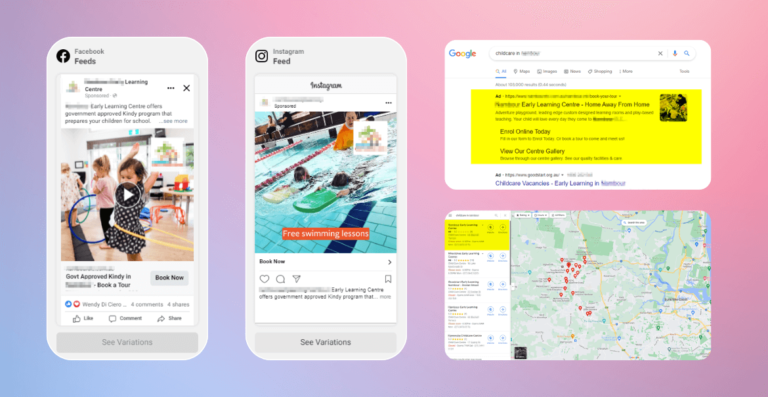 Hit 100% Occupancy within Months of Engagement Share on facebook Share on twitter Share on linkedin Share on pinterest Attract...
What do Childcare
Owners say

about Airchild

Our customers love what we do
Read what Airchild means to other Childcare Businesses like yours.
Frequently Asked Questions
I have not used any CRM before, who will train me?
Getting you up to speed quickly is easy with our self-paced training, which will have you up and running in a matter of hours. Your account manager will also be able to guide you through anything you need extra help with. We also offer in-app live chat.
How do I manage the leads pipeline?
Your pipeline gives you a quick glance at where your leads are in their journey. Personalised emails or text messages will be sent automatically as leads move through each stage. When the system is customised to your centre, you will have full control over which messages are sent and can review them at any time.
Can I send bulk emails?
Yes. From the Contacts page, you can choose to communicate with parents individually or in bulk by using Smart View reports. You can use presaved views or filter the families you want to communicate with quickly. You can send the email in two different ways, either manually or by using prebuilt templates.
Do I need someone to sit across the system all the time?
For childcare centre managers, Airchild is designed to handle many conversations and processes automatically, including mobile voice drops. However, automation and artificial intelligence can only go so far, and updates still need to be made by humans. For example, a user would still need to trigger the next stage of automation by changing tour booking appointment statuses to Attended or No Show.
We would be happy to help you automate or semi-automate any specific processes that you need.
Can I edit the email templates?
Yes. You are completely free to modify and add email templates. Additionally, there are specific email templates you will need to review during onboarding. Also, the basic CRM training course covers all of these features, so your team will have no problem using the email editor once they have completed the course.
Can I see all leads in one spot?
Yes. The Opportunities tab provides easy access to all leads. Our stages are perfectly broken down to make it clear where a parent is in the enrolment journey at any given time. Additionally, unlimited pipelines can be configured for your centre. This can be useful if you have other people to keep track of such as interviewing candidates and managing the recruitment process communications.
How do parents get notified when a place is made available in the waitlist?
If a spot becomes available, Airchild automatically sends an email to the next parent in line and asks them to confirm. Centre staff are also notified and instructed to follow up on the families.
Other Airchild features that'll help you
manage your centre

a breeze!
Take off with Airchild
Partner with the world's first hybrid childcare digital marketing agency & software solution to take your enrollment and profitability to the next level.