How AirChild Email Marketing software can
help your childcare centre
Email Newsletters
Keep your brand front of mind with value-packed newsletters that showcase your centre every month.
Email Campaigns
Design better emails with our drag and drop builder.
Drive Enrolments
Increase enrolments using well-designed, engaging email templates that drive click-through.
Email marketing - the communication channel your centre can't afford to ignore
Increase enrolments and parent loyalty year after year by using an engaging email marketing strategy. The return on investment (ROI) of email marketing is $36 for every $1 spent. It's still higher than any other channel!

Lack of resources, lack of expertise, or just plain overwhelm are all reasons childcare centres struggle with email marketing today. If this is you, then let us design and write your emails for you every month.

If you like to get hands-on, then Airchild makes it easy to create engaging emails with beautifully designed templates, even if you're not an expert designer or developer.

Start sending personalised emails that get opened and clicked and watch those enquiries flow.
Airchild's Email Marketing at a glance
Easily deliver engaging emails that will grow your centre faster with automation
This isn't your Nana's email marketing software
Beautiful design combined with smart triggers, personalisation and
marketing automation deliver an engaging customer experience
PREBUILT EMAIL MARKETING TEMPLATES
Send beautiful emails to parents with ease
Our prebuilt, easy-to-use email marketing templates are designed specifically for childcare centres like yours. These professionally designed emails help you increase enrolment, keep parents informed about their children's progress, promote new programs or services, send out monthly newsletters and much more! Best of all – they're really simple to use with our drag and drop editor. No design skills required!
Deliver the right message at the right time
We help you deliver the right message to the right person at the right time. Airchild creates automated journeys based on customer behavior and interactions. This way, you can send relevant emails that drive higher engagement and better experiences for parents.
Hi Sarah, Kai's graduations is coming up on the 29th Nov!
Our powerful email marketing software allows you to easily bulk email parents with personalised messages and trigger responses from custom links. Send out newsletters, event invites, nurture sequences and more!
This means less time spent on tedious tasks and more time creating engaging content for your centre.
See which email campaigns are getting the eye...shocker
Email is still one of the most effective ways to reach your customers. But it's not enough to just send an email and hope that people will open it, read it, and take action.

That's why we have advanced segmentation baked in, so that you can create targeted messages for each group of recipients, that parents are more likely to open, read and action.
Take follow up to a new level with trigger links
Imagine sending out an offer via email and then everyone that clicks the link is automatically added to a call queue or sent a voice drop via SMS with a personal offer.

Automatically schedule a checkin email and allow parents to tell you where they are at with a simple link click. Great for waitlist management! Your team will need to find something else to worry about.
Childcare Centre
Success

Stories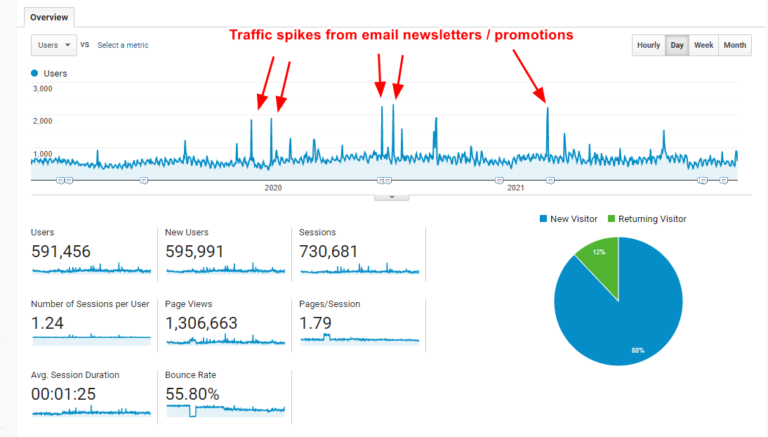 Boost Your Website Traffic with Email Marketing Share on facebook Share on twitter Share on linkedin Share on pinterest This...
What do Childcare
Owners say

about Airchild
Our customers love what we do
Read what Airchild means to other Childcare Businesses like yours.
Other Airchild features that'll help you
manage your centre

a breeze!

Frequently Asked Questions
Do you have ready-to-use email templates?
We sure do! Airchild has 180 copywritten email and SMS templates ready to use, saving you thousands on copywriting costs. While some of the emails can be used as they are, others will need to be tailored to meet your specific needs during onboarding. Additionally, Airchild lets you create new email templates, which you can learn how to do during our certification program.
Can I adjust the email campaigns myself?
You sure can. If you are used to Mailchimp, the Airchild editor will be very familiar to you. Before we launch any email marketing campaign for you, we will confirm the email campaign goals, discuss the offer or copy, and confirm the creative assets. You will also learn how to create and edit email campaigns by yourself with Airchild's self-paced training courses.
Can I see the email campaign performance?
Within Airchild, you will have access to your own statistics dashboard for each email campaign. As a result, you can quickly assess the effectiveness of your campaigns based on successful deliveries, open rates, click-through rates, and bounce rates, and make any necessary adjustments accordingly.
Is it possible to import email campaigns from another platform to Airchild?
With the import template option, you can import existing email templates from other platforms like Mailchimp directly into Aichild's editor.
Can you help us with email deliverability?
Our friendly support team can help you increase the deliverability of your email. They are skilled at tuning your email settings to ensure optimal delivery. We can also run deliverability tests to confirm your deliverability score before you send so you know you'll reach the maximum number of subscribers.
What is the meaning of email deliverability and open rates? Why are these so important?
Email deliverability measures how many emails arrive in parents' inboxes out of all the people you sent them to. 95% and higher is considered good deliverability. You would consider an email campaign's metrics to be good if they were in the range of:
Delivery rate > 95%
Open rate > 20-30%
Click through rate (CTR) > 2-3%
 
You will never know how engaged families are if you write a long newsletter without links to blog articles or calls to action. If you want to track how many people actually click through to your website rather than just opening the email, consider breaking it down into small teaser sections with links to the main article or having at least one main call to action link. We recommend that you post your newsletter as a blog article so you will benefit from ongoing SEO benefits instead of 24-hour burst of clicks.
Take off with Airchild
Partner with the world's first hybrid childcare digital marketing agency & software solution to take your enrollment and profitability to the next level.