Get everything you need to run your
childcare centre in one place
Easy Integration
Airchild offers integrations with some of the most popular business tools, making it easy to keep your work organised and streamlined.
Maximise Enrolments
With Airchild's cutting-edge technology, childcare centres will be more efficient with parents' engagement maximising enrolments.
Easy Management
Airchild offers the best of both worlds: an experience-driven platform, with all features available from one centralised location!
Airchild plays nice with others
With over 50 features including appointment scheduling, business phone system, social media scheduling, website and landing page builder, web chat, SMS and email marketing, you could be forgiven for thinking this is one app to rule them all. But we know it takes more than powerful marketing and sales CRM to run profitable childcare.
Airchild is built to grow with your centre no matter what you need to connect today or tomorrow. There are direct integrations (see below) or you can use tools like Zapier to connect to over 2000 apps. In case you need to get serious, our API is up for the job. We can help you future-proof your centre by discussing your specific integration needs.
Run your childcare like a well-oiled machine with Airchild Integrations
CHILDCARE MANAGEMENT SYSTEM INTEGRATION
Kidsoft integration is live! ⚙️
There's so much paperwork and data to keep track of, from enrolments and payments to allergies and medications. It can be tough to stay on top of it all.
Airchild CRM integration with Kidsoft makes managing your centre easier than ever before. With this integration, key child data is automatically transferred between the two systems, so you have less work to do and more time for what's really important – caring for your children!
SYNCS WITH OUTLOOK CALENDAR
Outlook Calendar + Airchild = 😍
Keeping childcare centres synchronised and on top of their daily schedule is easy with Airchild's Outlook integration.
This allows childcare managers to schedule smartly and collaborate more effectively by syncing tour bookings and other appointments to their Outlook calendars. Ultimately, this allows childcare centres to maximise productivity. 
GOOGLE CALENDAR INTEGRATION
Airchild goes gogo over Google
In today's fast-paced world, it's more important than ever to keep your childcare centre organised. Thankfully, Airchild fully integrates with Google Calendar – one of the most popular platforms used by childcare centres today, and for good reason. It's simple to use, extremely powerful, and you can easily keep track of your childcare events and activities. Plus, you can leverage Google notifications to make sure you never miss a booked event. Just Amazing!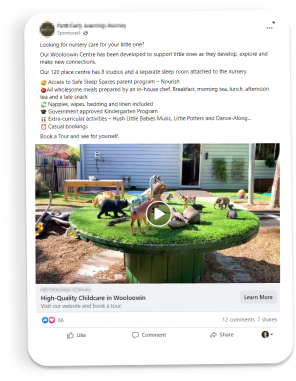 Quick 'n easy integration with Facebook
Facebook is the largest social network in the world, with over 2 billion monthly active users.

Now, it's easy to check Facebook campaign results in the CRM, and quickly reply to messages received on your FB pages. This integration will help you better connect with your customers and continue to grow your business.
WE'VE GOT YOU COVERED ON INSTAGRAM!
Finding the right childcare centre has never been easier
Airchild + Instagram Integration!
Now, parents can easily reach out and enquire about your services directly through Instagram. This integration will allow you to better serve your community and provide the high-quality childcare services that parents have come to expect. Thanks to this IG Integration, finding the right childcare centre has never been easier.
UNIFIED COMMUNICATION INBOX
Feel like you're constantly playing catch-up with your messages?
Worry no more. Airchild's 360 Inbox solves this problem by consolidating all of your communications into one platform. With Airchild's integration to various communication channels, you can now effortlessly monitor all conversations in one place and be able to reply to parent enquiries with ease.
The Airchild 360 Inbox helps you save time by eliminating the need to switch between different platforms. So you'll always be on top of every conversation.
GOOGLE AND FACEBOOK REPORTING
PPC Campaign Results + Analytics in one view
Imagine having all of your campaign data from Google, Facebook, and Google My Business in one place. Luckily, Airchild integrates with all of these platforms!

The Airchild reporting dashboard shows exactly which marketing campaigns drove tours and enrolments removing any guesswork. You can even see which calls are getting answered and which are getting missed.

This gives you a bird's eye view of your marketing efforts and how your team are performing. Having this information at your fingertips makes it easy to identify areas that need improvement and make informed decisions about your marketing strategy.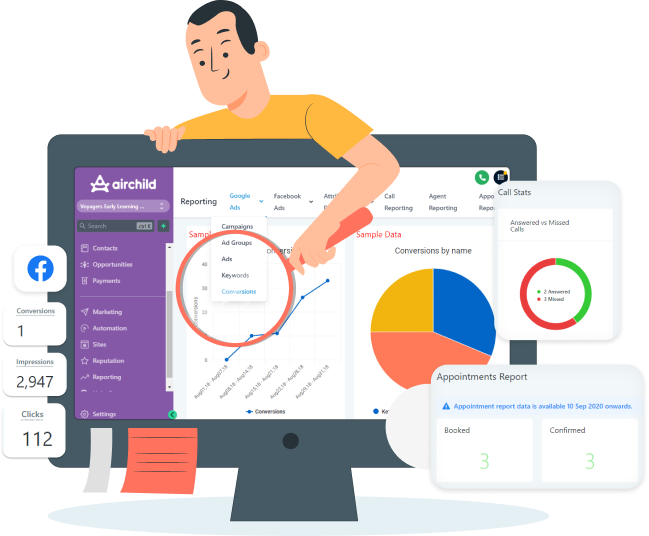 BUILT-IN MESSAGING AND PHONE SYSTEM
We know that it can be tough to keep track of all the different ways you need to communicate with parents. Between emails, phone calls, text messages, and social media – it's easy to feel overwhelmed.
Airchild's integration with Twilio makes it easy for you to stay in touch with parents. With just one app, you can send messages via SMS or make a phone call from within Airchild! All these features can be added to our automated nurture sequences that will take care of all your communication needs automatically!
WORDPRESS BAKED IN WITH ❤️
Connect your WordPress website with ease
The Airchild plugin for WordPress allows you (or our team) to design high-converting landing pages and integrate them directly into your existing WordPress site.

Airchild can even host your entire WordPress site and connect all your forms directly to the CRM so no lead is missed.

Need more engagement? Airchild's text-to-chat widget will have you chatting with your website visitors in no time (psst don't tell anyone but you can use Luna, Airchild's AI assistant, to have the conversation for you).
Fully automated Review Management System with Google My Business
Airchild's automated review system makes it quick and easy to gather and manage Facebook & GMB reviews to help improve your centre's ranking and increase revenue. Reviews on your GMB listing and Facebook page can help you build and maintain a good reputation, which is essential for a childcare centre.
If you want an edge over your competitors, Airchild is here for you.
Text to Pay with Stripe Integration
Simplify payments for your childcare centre – Airchild's integration with Stripe allows you to create a payment link for any ad-hoc collection from parents.
This could be a weekend ballet lesson or just any other custom event that the centre is hosting that needs special fee collection. Payments are essential for keeping the business running, so this new feature will make your life a lot easier!
ZOOM AND GOOGLE MEET INTEGRATION
Connect with families anytime, anywhere.
Busy parents will appreciate having the option to jump on a zoom call if they can't make it in person.
Airchild's Zoom and Google Meet integration lets parents book tours online, get a virtual tour, meet the staff, and ask questions from anywhere.
Along with virtual tours, you can create a personalised meeting calendar with video conferencing integration for your team. Now you don't have to pay for scheduling and appointment booking services like Calendly!
Cardly - Say goodbye to forgotten birthdays with Airchild 📪
Everyone enjoys receiving real cards. It's one of the best ways to make sure that your families know that you're thinking of them on their special day. You can send beautiful, personalised cards to parents, children or even staff with Airchild's Cardly integration.

With Airchild, you can set up recurring card sending simply by adding a tag to the contact, so you never miss those special moments. Personalised mail is a powerful way to maintain and nurture family relationships. You just sit back and enjoy the happy vibes your centre and staff receive.

Make the card even more special by including a QR code to launch a video showing the team wishing the parent or child a happy birthday. We aim high at Airchild 🌙
What do Childcare
Owners say

about Airchild

Our customers love what we do
Read what Airchild means to other Childcare Businesses like yours.
Frequently Asked Questions
Who connects our accounts?
Anyone with admin access to your Airchild CRM instance can connect accounts. Our basic certification training covers this, as well as our helpful articles.
Who can help us set up the integrations?
Using your credentials, you can set up any of the direct integrations such as Facebook, Google, Google My Business & Stripe. A guided tour walks you through the process, and our support team is only a click away if you need help.
Do you charge extra fee to connect our CCMS software?
Do you integrate with other CCMS software?
CCMS platform integrations are constantly being added. Please contact us if you would like us to integrate with a particular platform so we can confirm the integration timeline. If your CCMS provider offers an API, Airchild can certainly integrate with your system. Additionally, we integrate with CSV files, email and can also use Zapier to connect 1000's of apps.
How long does Google and Facebook integrations take?
Integrating with Google, Facebook & Instagram is as easy as clicking on the Integrations page and logging in. Typically, it takes 2 to 5 minutes - it takes longer to change a nappie.
Other Airchild features that'll help you
manage your centre

a breeze!
Take off with Airchild
Partner with the world's first hybrid childcare digital marketing agency & software solution to take your enrollment and profitability to the next level.