Why Automated Tour Booking is beneficial to
childcare centres
Reduce No-shows
Reduce no-shows with SMS and email reminders and rescheduling options.
Save Time
Save time and resources by automating the tour booking & followup process.
Increase Tours
Increase tour bookings by giving parents control over when they schedule a tour.
Streamline Tour Bookings with A.I.
In today's fast-paced world, parents expect more from services they pay for, like childcare. That's why Airchild's A.I. tour booking and smart follow-up system is a game-changer.
Luna, our booking bot, makes it easy for parents to schedule a tour anytime, anywhere. Our smart follow-up sequences keep them informed every step of the way, from booking to their visit.
Plus, our visual workflow helps your team stay on top of each family's stage in the process. And with near-instant feedback from parents after their tour, you can make improvements that could mean the difference between winning or losing a $20,000 enrolment.
Make parents' lives easier by taking the hassle out of booking childcare tours
Let parents easily schedule tours straight from your website
Looking for a convenient way to schedule tours? 
Airchild's mobile-friendly tour booking calendar can be embedded anywhere on your website, making it easy for parents to find and book a tour. Plus, our simple booking process makes it easy for parents to schedule a tour without having to call or email you.
Automated tour and confirmation reminders
See all bookings by stage in one fearless glance. 
Airchild automatically syncs your Google and Outlook calendars, so you never have to worry about missed tour schedules again. Your team can be notified via the mobile app, and our easy-to-use platform makes it simple for you to manage your availability and bookings.
Save time on paperwork and chasing down information
Airchild Forms is the simple way to register a child for quality care or any other forms you need to create. We take all of that paperwork off your hands so you can focus on what matters most – building relationships and looking after those bundles of joy!
SMS A.I. Booking Bot for parents on-the-go
Parents everywhere will love our new SMS A.I. tour booking bot called Luna. With Luna, families can easily make tour bookings as they are talking to a real human and get up-to-the-minute confirmations via SMS – making it more convenient for everyone. We're the perfect choice for busy centres that want to deliver a first-class experience for families.
Can't make it? We'll bring the centre tour to you.
Sometimes life gets in the way and families just can't make it in person and that's ok. Airchild will bring the centre to them!
You can seamlessly connect with families and deliver a memorable virtual tour with our new virtual tour bookings integrated with Zoom and Google Meet.
Welcome all new leads auto-magically​
Use smart automations to provide a warm welcome to every lead that arrives at your website and immediately start building trust without having to lift a finger.
E.g. It's 8pm, the kids are in bed and Jane responds to your Facebook Ad. A few minutes later she has a voicemail from your Centre Director thanking her for her inquiry and letting her know the next steps. She feels connected to this centre already .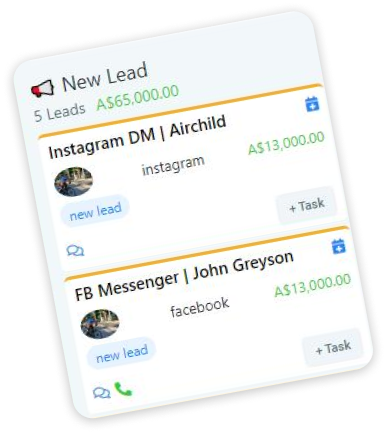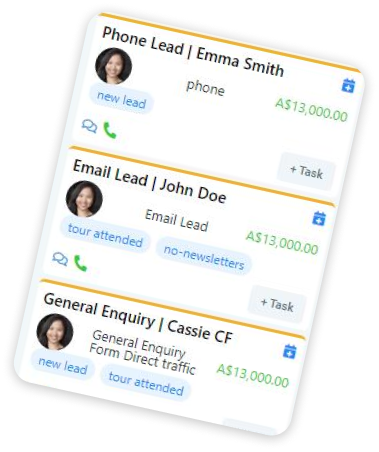 Ready to go, copywritten nurture campaigns parents will love
Let's face it, most childcare centres have one ho-hum autoresponder and then…crickets 🦗
Not on our watch! Quickly tweak our professionally written nurture sequences to ensure that every lead experiences a consistent stream of engaging content. Keep your brand front of mind through the parents' decision-making process.
Streamline all of your childcare leads with an intelligent Lead Management System. It's designed to keep your team on the same page and families engaged with personalised nurture sequences that fit their time frames.

Stay organised and on top of your game while automating the parent enquiry to child enrolment journey, so that no parent is left behind.
Let Airchild simplify your feedback process.
Our post-tour system automatically sends parents a dynamic email with feedback links, making it easy for them to categorise their experience. Each response triggers an automation flow, allowing you to segment parents and improve your tours and facilities. Let Airchild handle the heavy lifting, so you can focus on delivering exceptional experiences. 😉
What do Childcare
Owners say

about Airchild

Our customers love what we do
Read what Airchild means to other Childcare Businesses like yours.
Frequently Asked Questions
Is it possible to notify multiple people when a tour is booked?
Whenever a parent books a tour, only one user will receive an internal notification. However, Airchild's flexible workflows allow you to add internal notifications to multiple recipients or push app notifications as desired.
How can Airchild help increase show rates of parents during centre tours?
As soon as parents book their tours, we send automated notifications and reminders so they feel taken care of. We'll let families know you're thinking of them, and this will encourage them to show up. The only thing you have to do is deliver a memorable tour!
How do we increase conversion rate of centre tours to enrolments?
An occupancy rate of 100% and a waitlist are the dreams of every centre. However, unless you have little to no competition, keeping families' attention while they decide, which can take weeks or months, without a nurture process in place is relying on luck. Unfortunately, the majority of centres have minimal ongoing communication with new families that don't immediately enrol after a tour, and simply rely on a follow-up call or a few emails.
Meanwhile, the smart centres running Airchild go about their days quietly knowing that every family who has been for a tour will receive an interactive follow-up survey that segments them into different groups depending on their situation, and engages ongoing personalised nurturing to leave no parent behind. When you consider how much it costs to get a parent through the door and take a tour (e.g. $200-$500+), you won't want to take any chances!
Do we need to have a dedicated centre staff to handle our centre tour calendar?
The Airchild Booking Calendar lets you set and forget your centre bookings. Families can book tours via your website, chat or SMS by engaging with Miss Luna, Airchild's smart AI bot. Reminders will be automatically sent via email and SMS.
To trigger automation, some process steps still require human intervention, such as updating the appointment status to Attended or No Show, which can all be done using the desktop or mobile app. In general, expect to save a lot of time while providing far superior service to parents.
Other Airchild features that'll help you
manage your centre

a breeze!
Take off with Airchild
Partner with the world's first hybrid childcare digital marketing agency & software solution to take your enrollment and profitability to the next level.