How Airchild SMS Marketing software can
help your childcare centre
Get More Reviews
Stay on top of your childcare leads through SMS marketing automation.
Monitor Reviews
Prebuilt parent nurturing campaigns using SMS, Chat, and Whatsapp for your childcare centre.
Boost Enrolments
Increase child enrolment using high converting mobile messaging sequences.
How can a childcare business benefit from an
SMS marketing tool?
It can be hard to get hold of busy parents, which is why SMS is so effective. Text messages have an open rate of 98%, with a staggering 95% opened in the first 3 mins!
Airchild SMS messaging helps you engage with parents when they want, how they want, by sending targeted messages that are relevant for each parent. Send out individual or bulk SMS using pre-written templates personalised with any of your CRM's data. Our smart list reports allow you to zone in on just the parents or leads you want to target, so none gets spammed.
Need a bit more sophistication? Use sentiment analysis combined with conditional automation to deliver personalised responses 27/7. Parents will be amazed at your responsiveness (while your team are actually focusing on the children). Take your marketing and communication strategy to the next level today!
Connect directly with parents using
targeted SMS messages
Get a top level view of your childcare centres using SMS Marketing
Build long-term relationships with parents
through personalised communication
PREBUILT SMS MARKETING TEMPLATES
Easily send personalised messages
SMS marketing templates are custom designed
specifically for childcare centres like yours.
By using these SMS sequences you can increase enrolments, keep parents informed about their children's progress, announce upcoming events and services, and more!
Welcome all new leads auto-magically
Use smart automations to provide a warm welcome to every lead that arrives at your website and immediately start building trust without having to lift a finger.
E.g. It's 8pm, the kids are in bed and Jane responds to your Facebook Ad, a few minutes later she has a voicemail from your
Centre Director thanking her for her inquiry and letting her know the next steps. She feels connected to this centre already.
Ready to go, copywritten nurture campaigns parents will love
Lets face it, most childcare centres have one ho-hum autoresponder and then…crickets 
Not on our watch! Quickly tweak our professionally written nurture sequences to ensure that every lead
experiences a consistent stream of engaging content. Keep your brand front of mind through the parents' decision-making process.
Tour booking so powerful it could run a Justin Bieber concert 🍑
Deliver a seamless childcare tour booking experience using either a traditional calendly type booking system or lift your game and use the latest SMS Al booking allowing parents to have a virtual conversation 24/7 and find a time that suits them and your centre.

Needless to say the entire tour booking workflow can be customised to your exact needs using the drag and drop workflow builder.
INTERACTIVE CONTACT REPORTS
Contact reports that play nice
Slice and dice the contact records to your hearts content and create saved reports just for you or make them available to select team members.
E.g. Show me all the parents that have booked into the Mums and Bubs group then send them an SMS to let them know to bring a friend – too easy 🥱
Childcare Centre
Success

Stories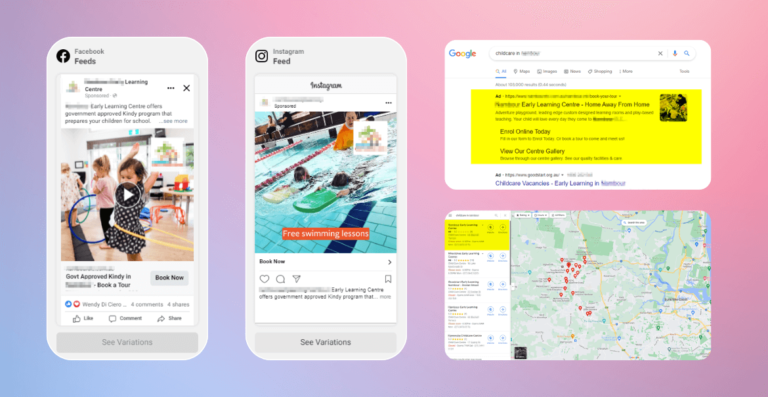 Hit 100% Occupancy within Months of Engagement Share on facebook Share on twitter Share on linkedin Share on pinterest Attract...
What do Childcare
Owners say

about Airchild

Our customers love what we do
Read what Airchild means to other Childcare Businesses like yours.
Frequently Asked Questions
How can Airchild's SMS Marketing help our childcare business?
75% of millennials prefer texting to talking. With Airchild, you can engage parents more effectively with SMS marketing features already built into your core workflows. In addition to automatic SMS notifications for bookings and waitlist confirmations, payment links for a one-time transaction, review requests, and bulk messaging can also be done. Our SMS platform also offers two-way conversations with AI and automation so that you can maintain a consistent communication experience 24/7.
What can we do if a parent chooses not to receive SMS?
A Do Not Disturb (DND) option can be set for a contact within the Airchild CRM. If the DND option is enabled, the contact, or parent, will not receive messages from any channel. The DND option can be enabled for emails, SMS, calls, GMB, and Facebook Messenger.
Can we create new SMS templates?
Definitely! It takes less than 1 minute to create a new SMS template with personalised tokens. You can learn how to create SMS templates in our certification courses. There are also pre-built templates available that can be used immediately in Airchild. During onboarding, some of these pre-built templates may need to be reviewed as they contain centre-specific information. We will update these for you once you provide us with the information.
I want to use the parent's first name in all outgoing SMS, is that possible?
Yes! In Airchild, personalisation is at its heart. With a drop-down menu in the editor, you can dynamically insert any field from the system into your SMS, such as the first name. Once the message is sent, the variable or token will be replaced by the parent's first name. The test message feature allows you to see how this will look on your mobile before sending. Editing existing templates is just as easy.
Is there a cost when we send out the SMS to parents?
Airchild uses Twilio to deliver calls & SMS services. Twilio charges AUD 0.071 to send texts and AUD 0.011 to receive texts, so AUD 0.71 is charged for every hundred texts. The pricing information can also be found here - https://www.twilio.com/sms/pricing/au
How often should we send out SMS messages?
There's no definite answer, but one practice is to strike a balance between letting parents know you're thinking of them vs. bothering them with low value texts. Airchild uses SMS to deliver important updates when parents need to be kept up to date on actions like tour bookings, tour feedback, and waitlist reminders.
Other Airchild features that'll help you
manage your centre

a breeze!
Take off with Airchild
Partner with the world's first hybrid childcare digital marketing agency & software solution to take your enrollment and profitability to the next level.