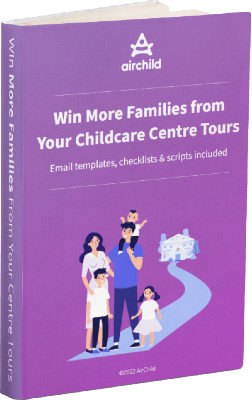 How to Win More Families from Your Centre Tours
The increased supply of childcare centres has led more parents to "window-shopping". Statistics show it costs $300-$500 to get a parent to a centre tour and 60% of them don't proceed further. Follow this guide to learn how to win more parents without spending more.
Power up your centre with Marketing AI
Get instant access to the people, processes and marketing tech to really
grow your childcare
Discover how the world's smartest marketing and sales CRM for childcare centres can attract more tours and increase enrolments while helping your team do more with less effort. Airchild gives you the edge that millennial parents expect. Watch the video to learn how it works.
The new way to

enrol more families.
Experience the first hybrid CRM platform designed to grow your occupancy. Behind Airchild is a childcare-focused digital marketing agency responsible for bringing families to your doorstep. No matter how many childcare centres you have, Airchild will help you grow your centre through smarter marketing campaigns & superior technology that engages families on autopilot using AI.
1

Marketing Magic is Made
We setup, integrate and tailor Airchild to your brand, train your team and launch done for you marketing campaigns.
Airchild engages parents on all channels, booking tours on autopilot and warming up parents.
3

Watch the Occupancy Soar
Perfect communications and smooth processes lead to more enrolnments, less work and a happy team. 
AIRCHILD'S DIFFERENCE
Comparing to traditional Agencies & CRM's?
You be the judge and see why working with Airchild is unlike anything you've tried before. Dive deeper by checking out the full feature comparison where you'll be able to compare what you currently have in place vs. life with Airchild, where you'll be winning hearts and minds.
Agencies

Like rolling dice

Childcare CRM's

No DFY

CCMS

No Marketing

In House

Just needs help!

Guaranteed Enquiries & Tours
Capture & Nurture Parents on Autopilot
Outperform Competitors
Reduce Workload & Save Time
Accurate Results & Reporting
Child Care Subsidy Management
Integrate Seemlessly
Unmatched Marketing & Technical Support
Get Started
Full Comparison
Full Comparison
Full Comparison
Full Comparison
Get 2-3x more tours with Airchild's Marketing AI.
I'll let you in on a secret – on average, childcare websites convert visitors into leads at an abysmal 1-3%. That's a lot of missed tours per 100 visitors!
Airchild's marketing team designs ad campaigns and lead funnels that attract parents at every stage of their journey. When they are ready to enrol, marketing AI ensures that your brand is top of mind.
Try Airchild's marketing team and see the difference.
Parents won't remember what you said, but they will remember how you made them feel.
Not to be dramatic, but the difference between winning or losing a family can be as simple as your 'speed to lead'. In fact, it's 21x more effective to call within 5 minutes than after 30.

Most childcare centres are unable to respond in less than five minutes, and impossible at night when many parents are active (or so you thought).

Using smart automation and marketing AI, Airchild engages parents on every channel 24/7, so parents feel the love all day, every day.  
KEEP YOUR BRAND FRONT OF MIND
Manage your waitlist like a pro.
Treat parents as VIPs while they're on your waitlist. Keep that warm fuzzy feeling flowing with engaging nurture sequences and personal emails so the competition doesn't get a look in. 
Our interactive emails automatically go out based on the parent's timeframe, not some hard and fast rule in your CCMS, so your team won't have to remember to reach out to Sally on the 3rd Monday of the month.
Who you gonna call? [hint] It's like having MacGyver on speed dial.
'Done for you' means exactly that! The Airchild team will help your centre's marketing and enrollment processes take off faster than a Tesla. Whether it's a strategy or a minor website update, we deliver quality every time. 
Not a techie? Not a problem, we'll be there every step of the way. 
Send the right message at the right time.
Using customer interaction and behaviour, Airchild creates personalised journeys designed to engage  parents with relevant emails and SMS messages that drive higher engagement.
With over 180+ professionally written emails, templates, and SMS messages, you can stop worrying about finding a copywriter who knows how to win hearts and minds.
It's more fun to watch open rates and click-through rates skyrocket 🚀
Communication Heaven
The joy of every
call & conversation

in one place
Keep everyone on the same page, regardless of how parents get in touch – phone, email, SMS, Facebook, Instagram & Google My Business it's all streamlined so you can #LeaveNoParentBehind.
Check what our clients say about us.​
Real results from real people
The Airchild platform combined with amazing marketing delivery has played a big role in helping us hit 100% occupancy. It's almost too good to share!
Kylie
Centre Director
Other Airchild features that'll help you
manage your centre

a breeze!
Take off with Airchild
Partner with the world's first hybrid childcare digital marketing agency & software solution to take your enrollment and profitability to the next level.