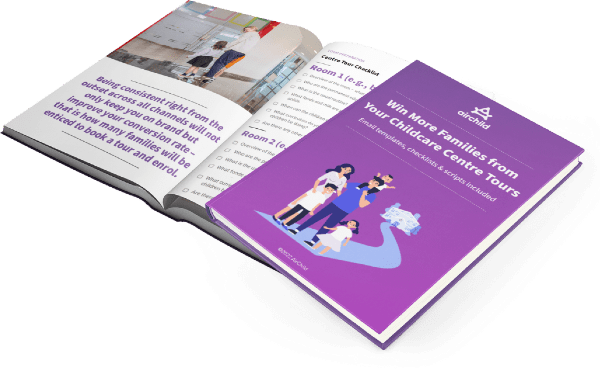 FREE DOWNLOAD


How to Win More Families from Your Centre Tours
Don't make the same mistakes most other childcare centres are making. Use this guide as your secret weapon to outsmart the competition and win more families (email templates, checklists and scripts included).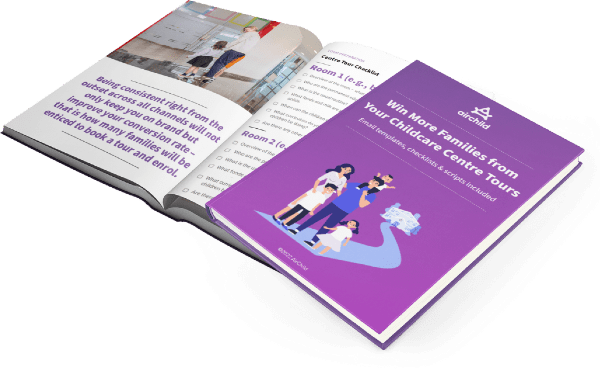 WHY DO YOU NEED THIS GUIDE?
Don't get complacent just because parents turned up to the centre tour.
Recent information shows us that there was close to a 6% decrease in enrolments between 2019 and 2020. Of course, COVID has had an impact on this, but more childcare services have actually opened their doors in that same period of time; almost 4% more.
With so many families having an even bigger choice on where to send their child, it is even more important that you celebrate your point of difference, that you are able to create the ultimate, high-quality centre tour, leaving your prospective parents with no doubt in their mind that you are their dream choice.
We will give you all the tools you need to showcase your awesome, professional educators, and high expectations of quality childcare and education.
FAQs
Frequently Asked

Questions
Do I get a download link or PDF?
You will receive a link to a smart PDF which also includes a bonus embedded video within the guide creating a much more enjoyable interactive reading experience. You will also have the option to download the lead magnet as an offline PDF. Enjoy!
Has this guide actually been written by someone that has worked in the childcare industry?
It sure has! Julia has been a centre director for many years and knows the childcare industry inside and out. She specialises in social media strategy and has extensive experience helping centres with compliance and policy processes to manage their QIP and EYLF documentation.
Can I actually use the email nurture sequences and scripts provided in the guide for my centre?
You sure can! You are free to use and adjust the scripts and then set them up in your own email marketing software. If you want to experience the full power of marketing and phone automation in your centre then we highly suggest that you sign up for an AirChild demo today.
Can I provide feedback on the guide or ask further questions on how to improve my centre process?
You most certainly can we would love to hear your feedback on the guide and support the growth of your centre by addressing any questions you have. To get in touch simply email us at support@airchild.ai or use the chat on the website or go old school and give us a call on +61 7 4429 8888
Can AirChild.ai actually help my centre get more tours and increase my enrolment rate?
That is exactly what we can do for your centre. The combination of leading-edge software combined with an extremely capable team who will work with you to identify the opportunities for improvement. We will discuss how the AirChild solution will improve parent communications, streamline your processes and help you enrol more parents.
Why do I need to fill out the information requested?
We will always keep your personal information safe.
We ask for your information in exchange for a valuable resource in order to (a) improve your browsing experience by personalising the AirChild site to your needs; (b) send information to you that we think may be of interest to you by email or other means; (c) send you marketing communications that we think may be of value to you. You can read more about our
privacy policy here
.