How to Create an Effective Email Marketing Strategy for Your Childcare Business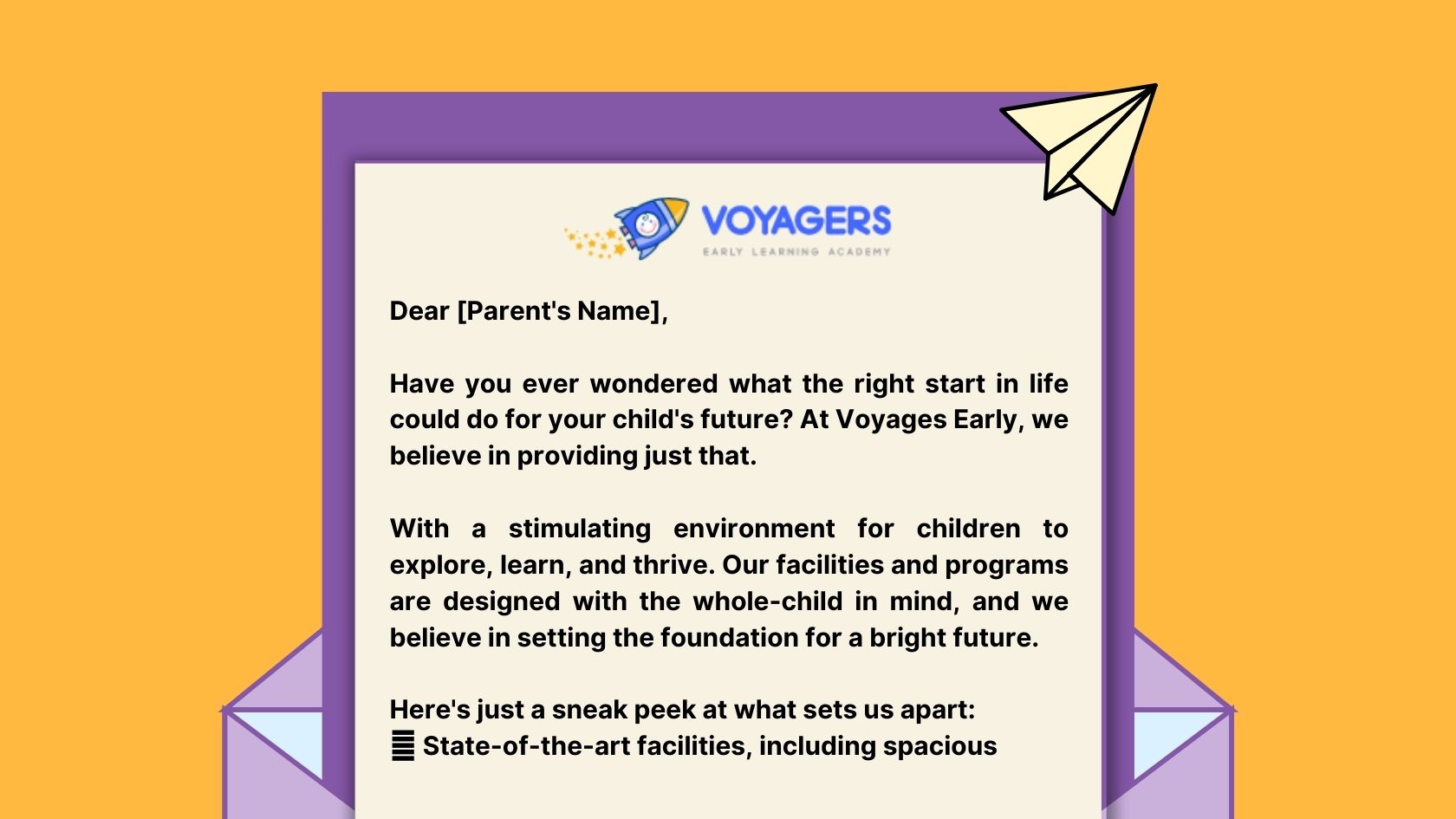 Successfully running and growing a childcare centre can be a challenging endeavour, but fortunately, there are techniques, strategies, and technologies you can adopt to enrol more families and win the trust of parents on each tour. 
In this guide, we'll walk you through creating an effective email marketing strategy for your childcare business and how it can help you enrol more families than you ever thought possible.
When diving into the 
statistics
of email marketing, we quickly discover that 77 per cent of marketers saw increased email engagement rates in the last 12 months and that 37 per cent of brands are increasing their email budgets due to the return on investment email provides.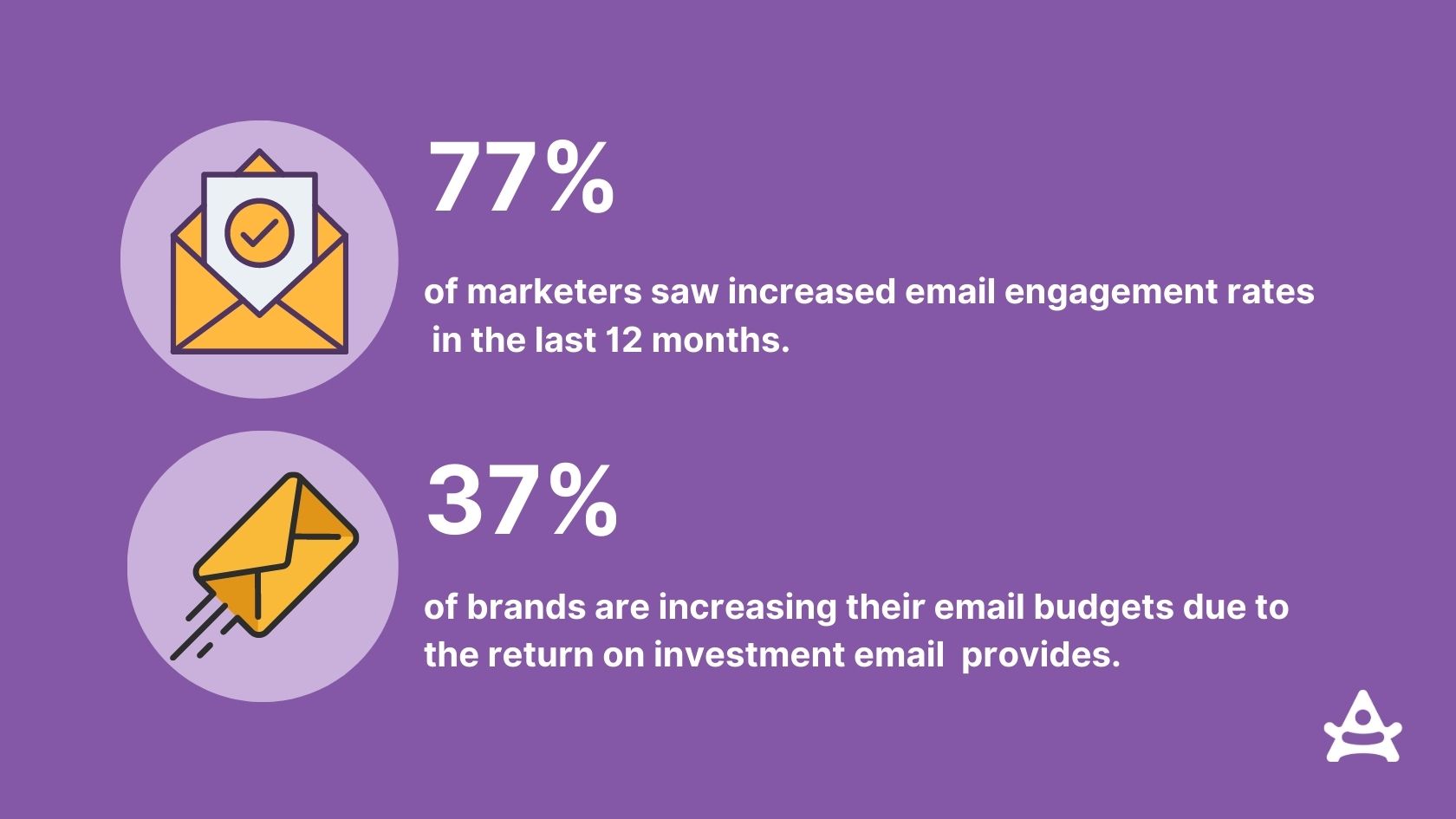 Childcare businesses that implement and successfully execute a sound email marketing strategy build further trust in their enrolled families and receive more inquiries, ultimately allowing them to grow their bottom line and increase profits in the long term.
After reading through this guide in its entirety, you should know what your childcare centre needs to do to create email marketing that enrols more parents and brings your business goals within reach. Let's begin!
The Basics of Email Marketing
Email marketing is a strategy childcare centres use to nurture relationships, build trust, and quickly and efficiently provide their enrolled parents and families with updates and offers on new services, deals, and company developments.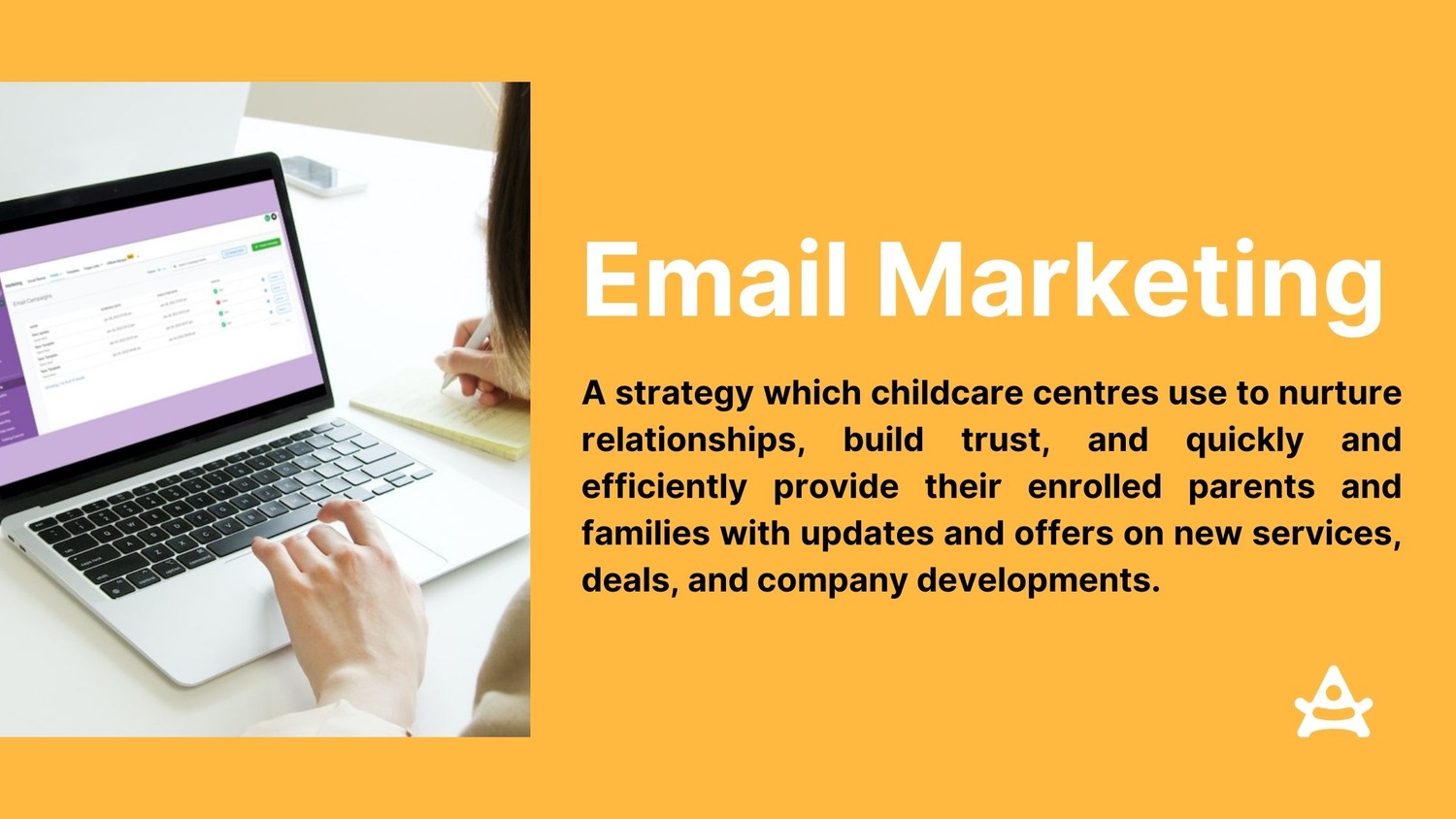 In 2020 alone, there were approximately 
305 billion
email messages sent and received daily, and there is no sign of this slowing down. It is estimated that there will be 4.6 billion email users by 2025!
If your childcare centre isn't currently using email effectively, you're missing out on a lucrative marketing channel and the opportunity to enrol large swaths of new parents into your centre.
At its core, email marketing is incredibly simple. All you have to do is obtain the email address of each parent or family that applies for a tour and then send them an email campaign for the next few days or weeks following their visit. If your messages are compelling enough, you'll build trust and prompt them to reach out to your centre for enrollment information, making your campaign successful.
Why should visitors give you their email address? What's in it for them?
Sure, you could ask them to sign up for your newsletter. But what are they going to get out of it?
Here's what you need to offer: Something worth their while. Something that will make them think, "This is worth my email address."
Here are some ideas: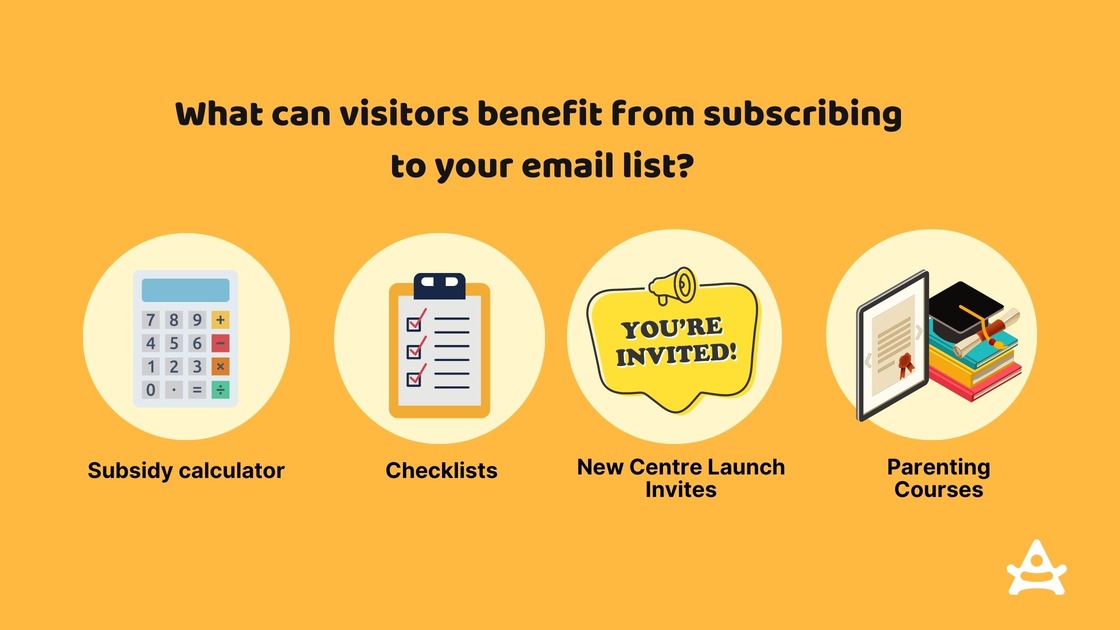 Subsidy calculator – See how much you can save on your childcare with our new subsidy calculator! Collect a name and email before providing the results.
Checklists:

How to select the best care for your child
Ready for school checklist
Parent Tour Handbook

New Centre launch – Get an exclusive invite to our centre launch grand opening and stay up to date with the progress of our new centre
Courses and Training – Consider investing in creating or licensing the use of educational courses for parents that they can sign up for. E.g. Guide to babies 0-12 months (Airchild comes with a built-in Membership and course builder)
Whatever it is, make sure it's something that will persuade visitors to part with their precious email address.
Why Email Marketing is a Successful Strategy for Nurturing Parent Relationships
Suppose your aim is to build relationships with parents and get them excited about your childcare centre and everything you have to offer. In that case, there's no better way to do so than through a strategic, informative and personalised email marketing campaign.
Marketers know that it takes 5-7 "touches" between your business and a potential parent or family before they are familiar with your company and trust you enough to register or purchase.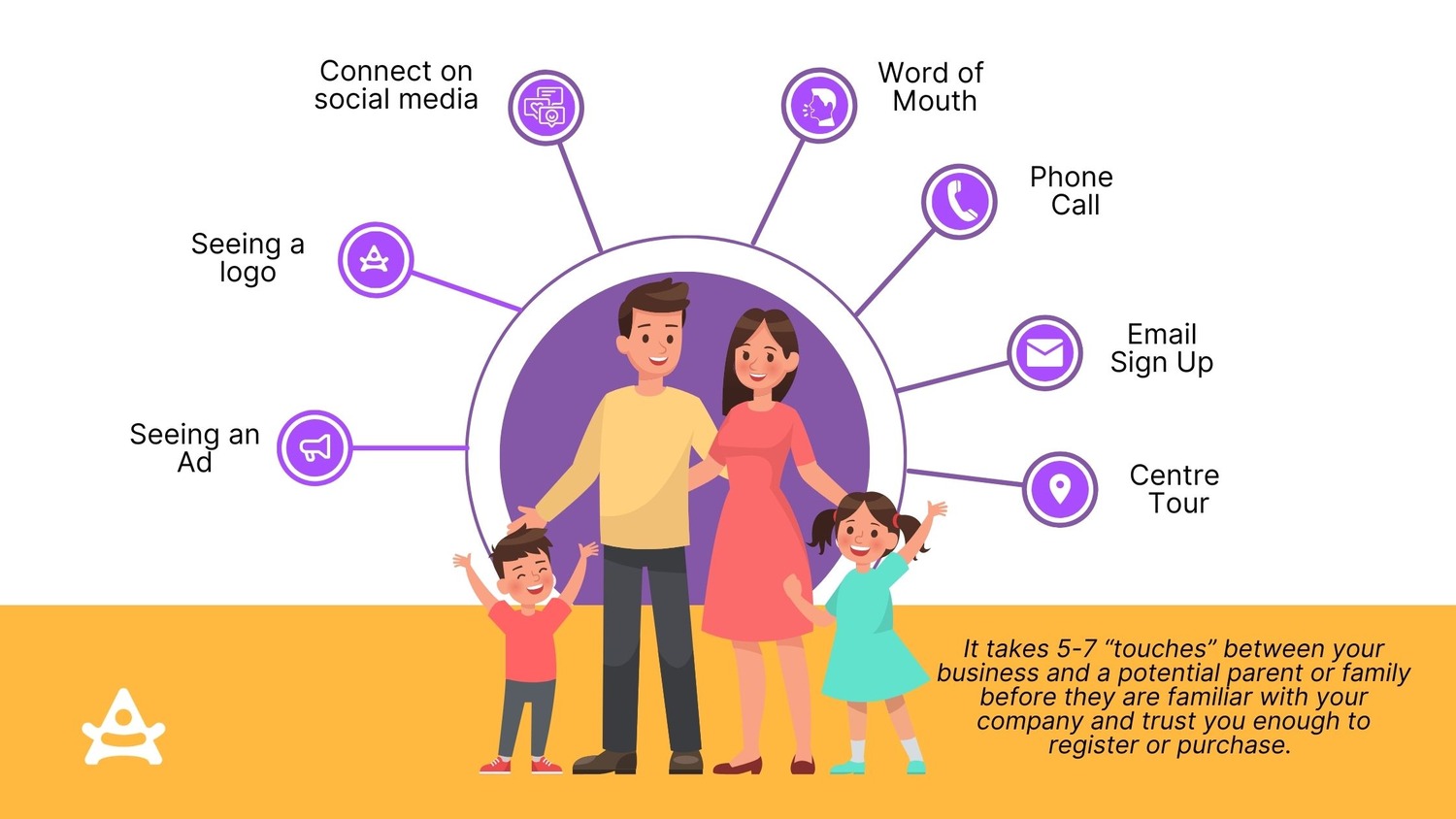 This also applies to parents who may not immediately enrol after their first tour but are willing to give your childcare centre a chance after receiving detailed information through a series of thoughtful email messages.
Almost everyone checks their email on a consistent basis, making email marketing the perfect strategy for nurturing parent relationships. If you've never attempted to create an email marketing strategy for your business, there's no better time to start than now.
How to Build an Effective Email Marketing Strategy
Building an effective email marketing strategy may seem overwhelming at first, but it doesn't have to be difficult or challenging if you follow a series of proven steps and strategies from start to finish.
In this section, we're going to walk you through the process of building your email marketing campaign and what you should expect from each step of the process.
We're going to start by identifying your objectives, planning your campaign, creating catchy subject lines, writing your content, measuring and tracking your results, and identifying ways you can further improve your results.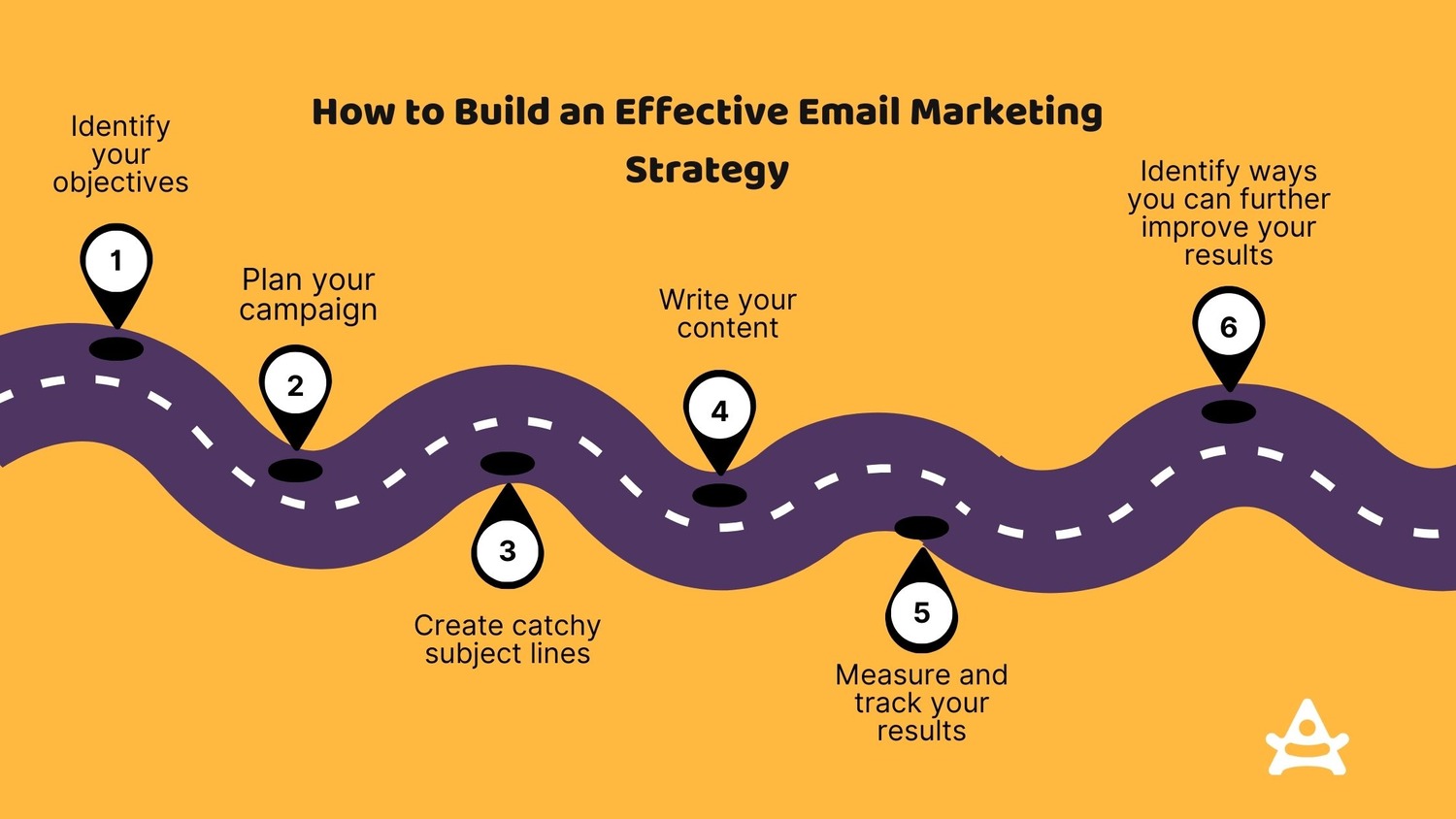 1. Identify Your Objectives
The first step to any successful email marketing campaign is to identify your objectives and understand what you're attempting to accomplish. For a childcare centre, you'll likely want to focus on nudging parents to sign up after a tour or perhaps providing them information about your centre after they've already enrolled.
This section will walk you through the objective identification stage.
What is the Purpose of Your Email Marketing Campaign?
Before anything else, you need to identify the primary purpose of your email marketing campaign.
Your childcare centre may want to jump into email marketing in order to:
Enrol more parents – You can use email marketing to give parents additional information about your centre and nudge them into enrolling their children with you.
Information and communication – Give parents updates regarding what is happening in your childcare centre and what they should be aware of.
Promotions – Are you currently holding any promotions for parents that they should be aware of? You can disseminate this information quickly and effectively through email.
Reconnecting with lost families – Are there parents who were enrolled in the past that you'd like to reach out to and contact? If you have their email, you can send them a campaign urging them to give your centre another try.
What Email Campaigns Help Childcare Centres Accomplish
Childcare centres create email campaigns for various reasons, including brand awareness, website traffic, nurturing leads, and generating additional revenue.
Email campaigns can help childcare centres with:
Brand awareness – Build brand awareness by consistently sending out emails to parents who showed interest. This gives them further exposure to your brand and makes them more likely to trust you in the future.
Website traffic – Get additional website traffic when you send email campaigns with links to your childcare centre's website.
Growing your centre – Sending emails that urge the recipient to enrol through a link in the email message can bring in additional revenue.
Lead nurturing – Nurture relationships with interested parents and families by sending out emails providing them with information about your centre.
Feedback and surveys – Gather information about how satisfied your families are with your childcare centre by sending emails containing feedback requests and survey forms.
Types of Email Campaigns for Childcare Businesses
There are different types of email marketing campaigns you can use for your childcare business, some of which we'll describe in more detail.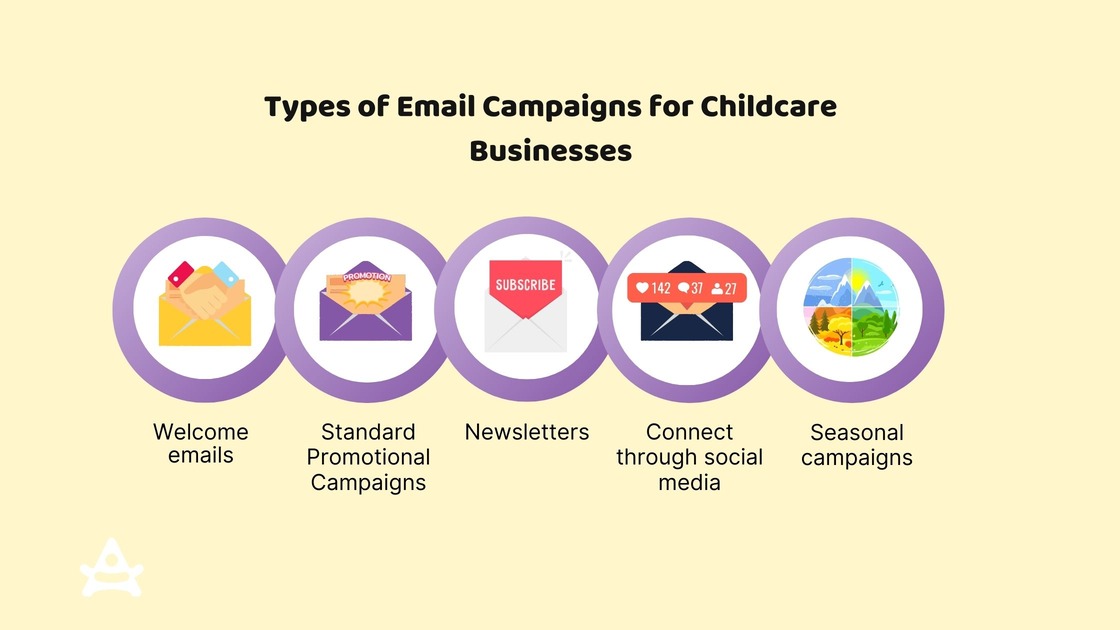 Standard promotional campaigns – These are the types of campaigns you'll most utilise. It involves sending additional information and detail to parents, making them more likely to enrol.
Welcome emails – When someone signs up to your email list for the first time, send them a welcome message to make them feel more comfortable with your business.
Seasonal campaigns – If you have seasonal enrollments, seasonal activities, or seasonal information, create a campaign that automatically activates on a specific date.
Promote social media & Blogs – To grow your childcare centre's social media presence, urge parents and families to follow you on social media.
Newsletters – Keep families and parents informed through newsletter email campaigns.
2. Plan Your Email Campaign Strategy
After you've identified the primary objective of your email marketing campaign, it's time to plan your email campaign strategy from start to finish. We're going to walk through the process of segmenting your list, planning flows and sequences, and how you can use campaigns to cross-promote your existing content.
Segmenting Your Email List
Not every parent or family on your email list will be interested in the same things. For example, perhaps there are parents with children in different age groups who you'd want to send emails that only pertain to that particular group of children.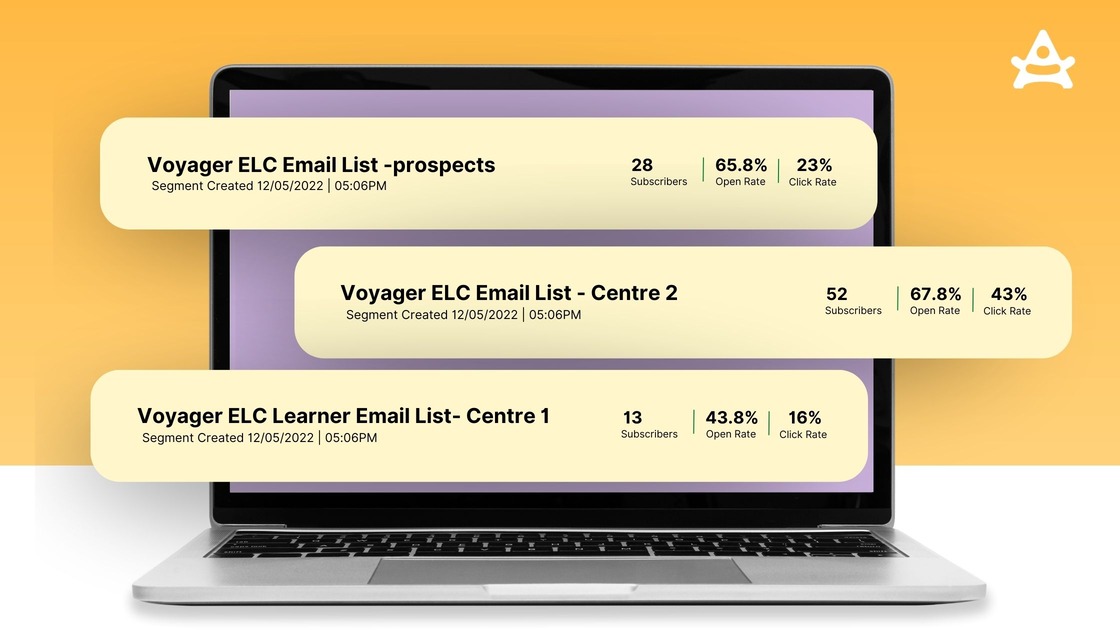 Segmenting your email list lets you split up all of your email subscribers into segments based on their particular circumstances. You'll be able to create segments with distinct titles and place those parents who satisfy the segment's criteria within it.
If you use segments, you'll ensure that you're sending relevant content to your email subscribers and not irritating them by sending them something completely unrelated to their situation.
Plan Your Campaign Flows and Sequences
Email marketing and automation software will allow your childcare centre to plan your campaign flows and sequences and have them automatically run on a timeline you've determined. At this part of the process, you need to plan what each email in your sequence will read.
Instead of having to sit down at a computer, write each email message, and send it by manually pushing the "send" button, email sequences automatically execute based on a trigger.
This means you can create an entire sequence of emails in one sitting, schedule them to send several days apart, and then attach them to a trigger whenever someone subscribes to your email list. By doing this, you would have automated your email campaigns, saving you significant amounts of time.
How Effective Campaigns Can Help Cross-Promote Content
If your childcare centre already has existing content you'd like to share with parents or families, email campaigns allow you to share this content easily.
When planning your next email sequence or flow, make a note to include existing content within the email to allow parents to access that content.
3. Catchy Subject Lines & Improving Your Email Engagement Rates
Once you've determined your email campaign objectives and planned your sequences and flows, the next step is to develop catchy subject lines that'll prompt parents to open and read your emails.
After all, what good is an email campaign if nobody opens it to read what's inside?
This section will walk you through the process of creating catchy subject lines using the seven influence principles. If you implement these principles, you'll make it much more likely for readers to open up your campaigns and read what's inside.
The 7 Principles of Influence (plus one bonus)
1. Scarcity / Urgency
Scarcity is a powerful principle that gives your readers motivation to act now. This can be emails that include daily or weekly deals, limited-time offers, and exclusivity.
Examples:
"🎉Filling fast: Your last chance to get a spot in our toddler room!"
"First day of enrolment: LAST chance for a bonus!"
🚨 Early enrolment ends soon!
"📧 [Your Centre] is almost full! Join the waitlist today!
[NAME's FINAL REMINDER] Our mums and bubs group only has 2 spots left
2. Authority
Authority is when you incorporate well-known people, trust, experience, and knowledge into your subject line.
Examples:
3 Mums tell us why they love our FREE mum and bubs playgroup
From one parent to another: Advice on choosing the right childcare centre.
10 things you MUST know before selecting a childcare
How Exceeding the National Quality Framework benefits your child
Why that shiny new centre may not be the best choice for your child
3. Social Proof
Social proof is applied by including reviews, ratings, awards, and the number of families your business currently has. There are 6 types of social proof:
Experts
Celebrities/Influencers
Users
The wisdom of the crowd
Friends and family
Certifications
Examples:
📈 Our parent happiness score just hit a new high for the 3rd year in a row! 
"Join 80 happy families and enrol your child today."
"[Suburb's]'s highest rated childcare centre is now enrolling."
Here's how other parents are preparing their child for school.
[Referral name] loves us & thought you might, too
4. Sympathy
You can create sympathy by being vulnerable, using humour, creating positive associations with your brand, offering excellent support, and making sincere compliments and connections with your readers.
Examples:
"Parents just like you have managed to use this method successfully."
"You're an amazing parent if you do this."
Feeling [insert emotion]? Let me help
If you're struggling with [common pain point], you're not alone

[Toilet training]
[Eating healthy]
[Drop offs]
5. Reciprocity
Reciprocity can be applied by giving gifts or exceptional offers to your readers, providing information through blogs or e-books, offering checklists, or even providing free trials. The goal is to offer something in return to urge your readers to reciprocate.
Examples:
"Free mums and bubs group this Wednesday. Coffee and muffins on us!"
"A parent's checklist to raising successful children."
Find out how to get free childcare for your little one.
6. Consistency
You can embrace the principle of consistency by asking your readers to perform small actions such as downloading an e-book, subscribing to your email list, filling out a quiz, saving your page as a favourite or bookmark, or following your social media accounts.
Examples:
"X TIPS to encourage your child to share."
"Schedule a tour today before it's too late!"
"7 Steps to creating a healthy routine for your toddler"
7. Unity
Unity is a principle that can be applied by showing readers that they are not alone and are part of a group. 
Examples:
"1,500 parents who want the absolute best for their children have already downloaded this e-book."
You're in the [Centre Name] family. Now let's be friends.
8. Curiosity (Bonus motivator)
Curiosity plays a big part in the way we learn and interact with each other, but it also plays an important role in how we market our centre. If you want people to open your emails, you need to make sure that they are curious enough to do so, which means making sure that your subject lines are intriguing and that you include some kind of call to action.
Examples:
"Your child's first week of childcare – 7 tips to ensure success."
"We've just added new perks for members of our parent's club"
"Are you ready for 2023 [Insert year] yet?"
"4 Lessons [Centre Director/Educator] Learned from caring for 1345 children over 10 years"
Tips for Designing Email Subject Lines
When designing your subject lines, ensure that you are using the principles mentioned above to guarantee that parents will be more likely to open your email subject lines.
Think about how you can invoke just enough curiosity to have someone open your email. Consider adding a fact or statistic that they don't know about. This is a creative process, and we recommend writing 10-20 variations of different subject lines and then narrowing them down to the ones that sound most compelling.
4. Know What Makes an Outstanding Email Message
By this point, you've already done all of the hard work in designing your email campaign, all that's left is to write your email content and then officially launch your emails to the world!
This section will guide you through the process of writing an outstanding message that captures attention and gets your readers to take action.
Improve Your Message with Visual Appeal
Visual appeal is one of the most effective tools available to marketers. People respond better to visual stimuli than verbal ones, so use graphics and photos to grab attention.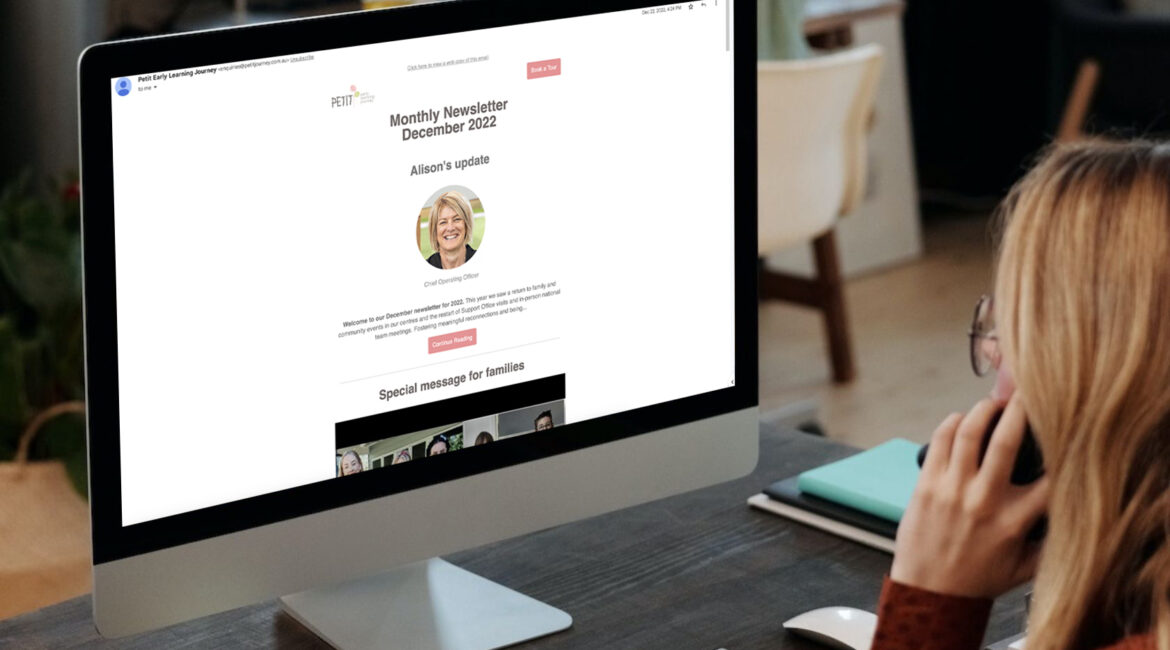 Do you have images of happy children playing in your childcare centre? Do you have any photographs you can include that'll make parents excited about working with you? If so, these should always be included.
Email Personalisation
When an email is generic, people are less likely to open it up and read through the content. This can be solved by making your emails personal and addressed to parents or families directly. When capturing people's email addresses, you can also capture their first names and then include that in your emails.
Personalisation is all about getting to know your audience and tailoring your content to them. It involves understanding your reader's needs and wants, and then delivering relevant content that will appeal to them. You can personalise your emails by including things like images, videos, links, and testimonials.
Keep It Short & Succinct
Long messages leave more room for someone to stop reading and lose interest. If you make your emails short and succinct, then readers will be much more likely to take action at the end of the message.
Email Formatting
Consider experimenting with different email formats and seeing what works best for your childcare centre. Some parents might prefer more colourful, personalised email formats, while others may want something simple and direct to the point.
Use Calls to Action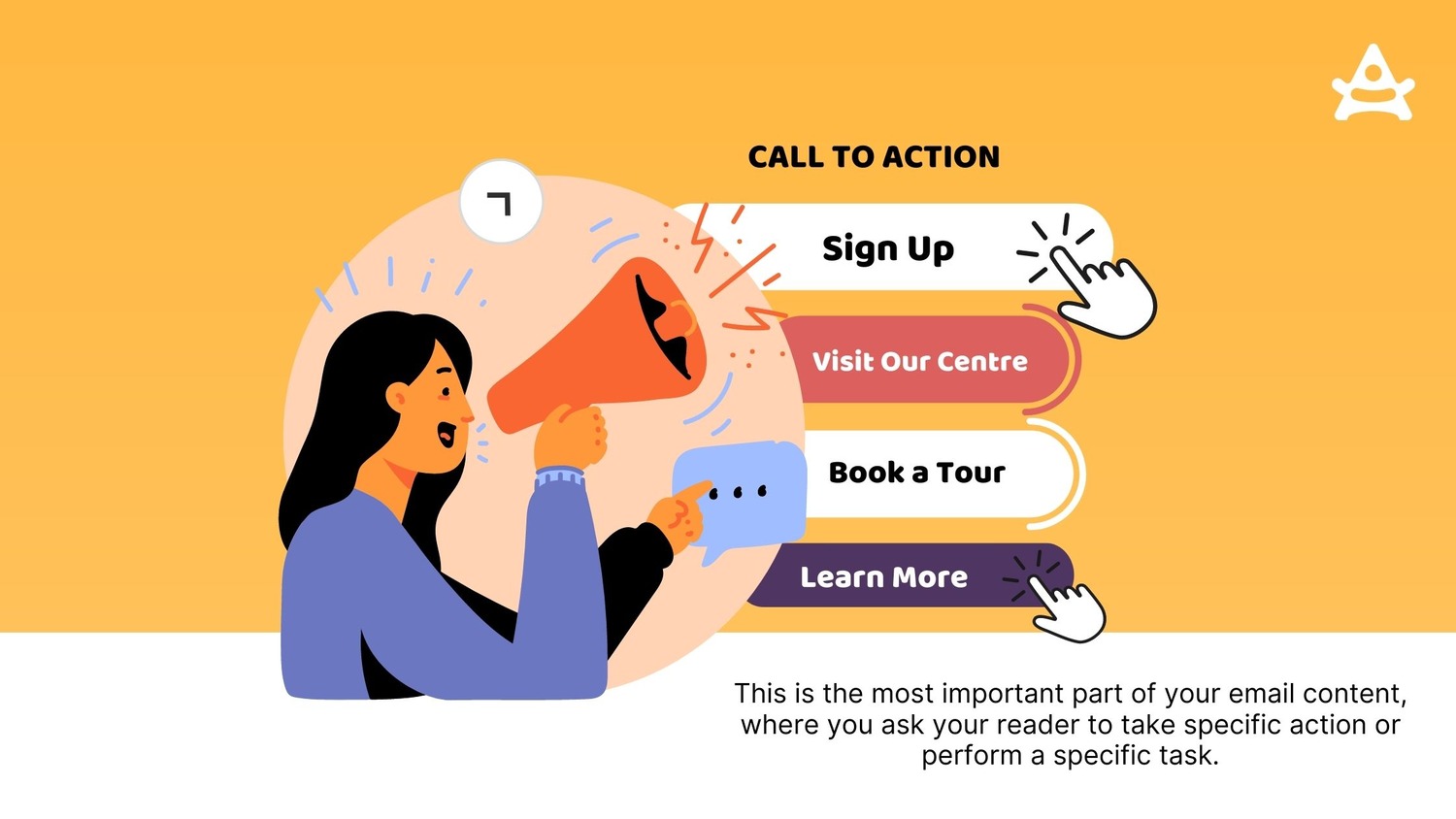 If you want to enrol more parents into your childcare centre, this is the perfect place to ask them to call your phone number or visit your centre to sign up their children.
Emotional Appeal
Emotions play a huge role in influencing behaviour, and therefore marketing. By appealing to emotions, you can motivate your readers to act. Some ways to achieve this include using humour, storytelling, and offering incentives
Incentives
Incentives are a great way to increase your chances of getting someone to take action. They work well when combined with emotional appeals, because they help to reinforce the message being delivered.
Call To Actions
A call to action is a clear request to take action on something. The goal of a call to action is to get your readers to click through to a specific page or link where they can complete a task.
You might have a great open rate, but if no one is taking action on your emails and clicking through to read more or take action then it may be a sign the content needs improving.
Length
The length of your emails also matters. If you write long emails, make sure that they contain value. Short emails tend to have higher open rates and conversion rates.
Video
Video is becoming increasingly popular as a form of communication. It has the ability to engage audiences in a much deeper way than text alone.
Freebie
Offering something for free or special offers is a great way to get attention and build brand recognition. People love getting things for free, so offering a freebie encourages them to subscribe to your newsletter.
5. Measure & Track Your Email Campaign's Performance
When you don't measure your progress, you don't know what needs to be improved. With email campaigns, in particular, it is extremely important that all of your email statistics are tracked and monitored in order to ensure that your emails are effectively capturing the attention of parents and families.
We're going to walk through several methods you can use to test the performance of your email campaign and make improvements on the go. This includes techniques such as A/B testing, monitoring open and reply rates, using reporting tools, and tracking unsubscribe rates.
A/B Testing
A/B testing is a methodology used by marketers all over the world to test one variable at a time and make adjustments and improvements to their campaigns.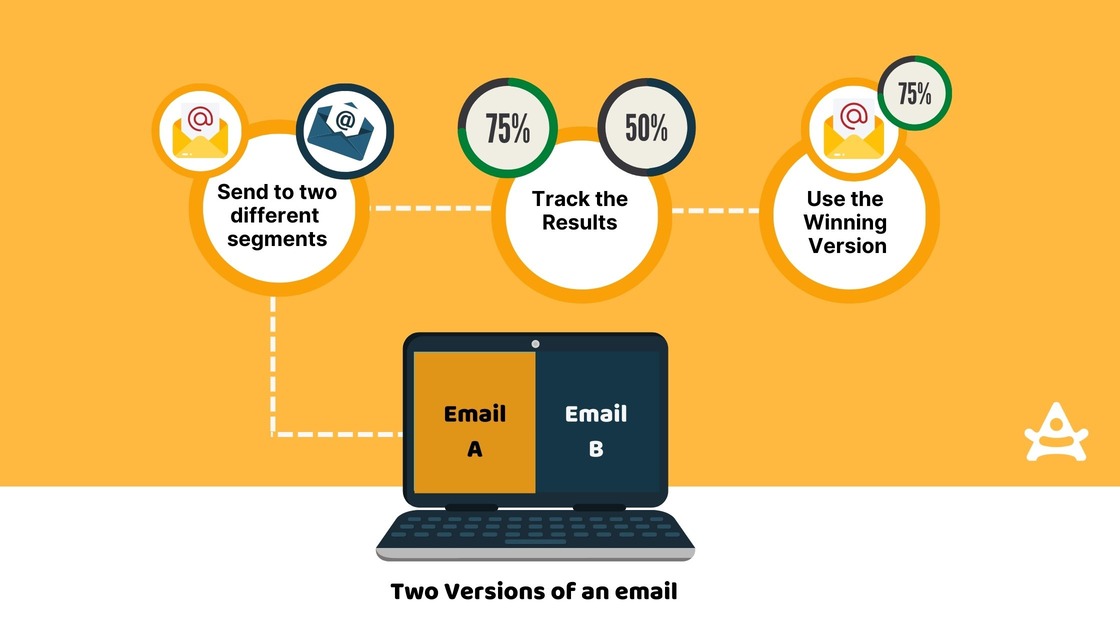 Most email marketing tools have A/B testing built-in, and it can be a powerful tool when used correctly. Remember, A/B testing only tests one variable at a time, meaning that you should always only make one change that you are testing and comparing to the "control" or standard variation.
For example, you can test one subject line against another subject line and see which one gets more responses. You would leave the contents of your email the same and just modify the subject line. By tracking responses, you'll instantly see what worked and what didn't work.
Reporting Tools
Using reporting tools that track your email campaigns is especially important when it comes to seeing whether or not your emails are compelling, as well as what needs to be improved. If nobody is opening your emails in the first place, you clearly have issues with your subject lines or deliverability.
If people are opening your emails but not taking action, then the problem lies in the content and your call to action. Perhaps you aren't articulating what action you want readers to take well enough.
Open and Reply Rates
Tracking your open rates and reply rates allows you to monitor the engagement of your email campaigns. Just as we described in the previous point, your open rate will most likely determine the deliverability of your email campaign as well as the effectiveness of your email subject lines.

Your reply rates will help you gauge engagement and how invested your readers are in obtaining a solution to their problem straight away. If you get a large number of email replies, you're dealing with a very interested and engaged audience.
Unsubscribe Rates
Tracking unsubscribe rates will allow you to understand how often people feel they don't want to hear from your organisation anymore. Generally, unsubscribe rates should be very low single-digit percentages, and anything greater should prompt you to investigate and ask your readers what you're doing wrong.
Use UTM Codes to Track Specific Actions
If you want to track specific actions within your emails in greater detail, you can use UTM codes. If you don't know what UTM codes are, they stand for "urchin tracking module" and were developed by Urchin Software Corporation, which was acquired by Google in 2005.
They are bits of text that you add to a link that tell Google Analytics what campaign a specific individual came from. Most email software tools will let you include UTM tags in email links, making it easier to track information about clicks and conversions.
6. Considerations for Executing an Effective Email Marketing Campaign
You've learned a significant amount of information about successful email marketing campaigns at this point, but there are additional considerations that you should be aware of. We're going to walk through each of these considerations briefly in the section below.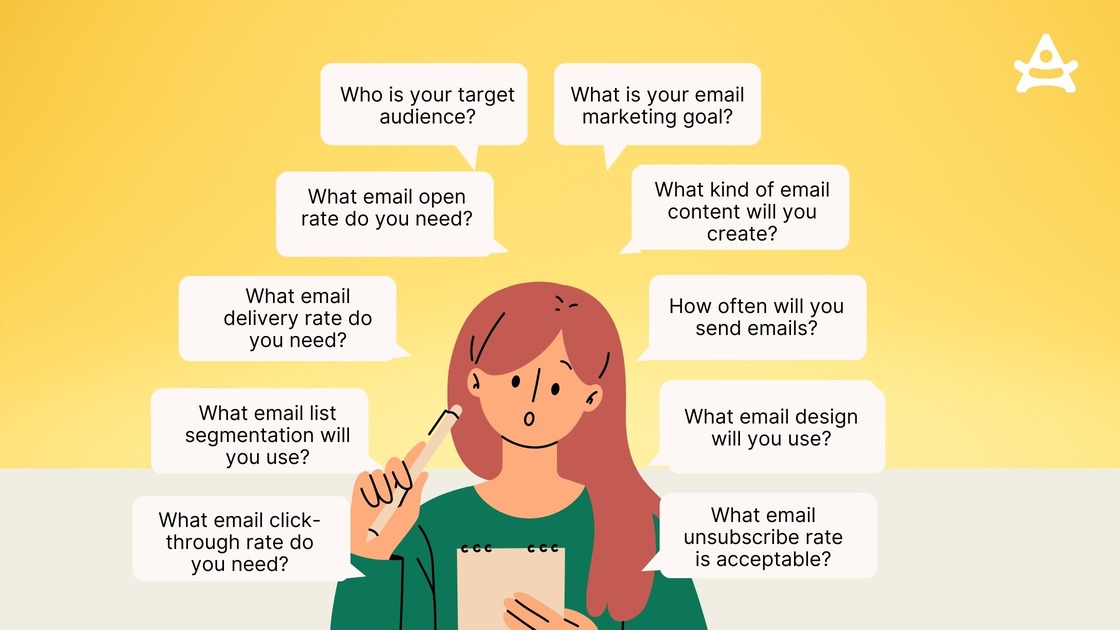 Who is your target audience?
You should know exactly who your target audience is. For your childcare centre, this is likely parents between certain ages in your locality or city.
What is your email marketing goal?
Identify what your email marketing goal is. Is it to enrol more parents, or to provide them with information about your centre? Thinking through your typical customer journey will help you highlight the various touchpoints and triggers that warrant an email.
What kind of email content will you create?
Will you be creating email content that tries to engage parents and build up trust in your organisation, or are you going to create highly visual content that shows parents exactly what your centre does day to day? Alternatively, do you need to create an email newsletter for your entire database?
How often will you send emails?
Determine how often you'll send emails to those on your list. Will you be sending messages once every few days, once a week, or multiple times a month?
What email design will you use?
Find a template and email design that you'll use, and stick to it. If you create a design and add branding colours and logos, your readers will trust your emails more and know it is directly coming from your organisation.
What email list segmentation will you use?
Determine how you will segment your list. Do you want to send different emails to parents of children who are in varying age groups? Do you want to create a segment for parents interested in extracurricular activities for their children?
What email delivery rate do you need?
The best way to determine email delivery rates is to look at industry standards. This is typically around 95% and higher.
What email open rate do you need?
Email open rates also vary based on industry. We recommend benchmarking your rate for your childcare centre and then comparing it to the industry standard, which is approximately 38.64%.
What email click-through rate do you need?
The average click-through rate for businesses in childcare services is 1.64%.
What email unsubscribe rate is acceptable?
An email unsubscribe rate that is nominal for an email campaign is one that is below 0.5%. Anything higher than this percentage indicates something is off in your campaign.
7. Choosing the Best Email Marketing Automation Software for your Daycare or Childcare Centre
We get it. We don't want to add more onto your already piled high to do list. That's why there are some great email marketing tools that do the hard work for you.
Choosing an email marketing automation software is perfect for helping you automate your campaigns. It can help you send more accurate and targeted emails, saving you time and improving engagement.
More Accurate Communications
With automated email campaigns, there's less chance of errors or the reader misinterpreting something – those typos can really create some drama sometimes!
As a result, your communications will be more effective overall, both in terms of reach and impact.
Targeted Emails
Having an automated platform gets rid of the "hit and hope" mentality. Sending the same email to everyone can be detrimental to your database as receiving unwanted emails leaves you wide open for the spam folder. People will opt out of your newsletters and communication and it could tarnish your brand.
Email marketing automation allows you to target specific segments of your audience with highly relevant content. This makes it easier for you to reach those who are most likely to convert based on their behaviours, such as RSVP'ing to an event, or requesting a centre tour.
Time Savings
It goes without saying that automating your email campaigns can save you time by allowing you to automatically schedule and send emails based on certain parameters, such as date range, recipient list, or subject matter.
In a fast pace early childhood environment, sending emails may be low down on your priority list, so automated emails are a win all round!
Increased Engagement
No one wants to receive a boring email. How often has that happened to you? And what do you do? Click the unsubscribe button and never have to deal with them again.
But what happens when the content is interesting? You might read it there and then and respond, or you may forward it to a friend or partner who is likely to also find it compelling.
Email automation can help you send more engaging emails to your subscribers. This will increase the chances that they'll open and read your messages, which in turn leads to increased conversion rates and customer retention.
There are plenty of email marketing platforms out there, all with varying features. You will also find email marketing services who will provide you with a range of communication channels and digital marketing strategies.
There will be pros and cons for each one, but ultimately you should use following list to help you make your decision.
Consider:
1. How easy is it to use? Can you create and send branded emails, manage your newsletter subscribers, and track results?
2. What templates are available for you to use? How many do you have access to and how customisable are they? Can you include your branding and colours?
3. Does it have email automation features? Can you send follow-up emails automatically or set emails to send based upon triggers like subscriber behaviour or within a particular time frame?
4. What sort of reporting tools does it offer? What kind of data is available and is it useful to you? Will it tell you about clickthrough rates and bounce rates? Is it easy to interpret?
5. What kind of customer support is available if you need help using the platform of have troubleshooting issues?
6. How much does the email marketing automation software cost to use? Are there different prices for different features or tiers of service? Does it depend on number of subscribers or the type of content you are producing?
7. What are the main features you need? Does the platform provide this easily and at little cost, or are there limitations? Not all CCMS solutions have a database and email capacity built in, meaning you need to use a third party software which usually attract fees.
Similarly, synchronising your existing database and CCMS with a new system is not always straight forward and many fall short of a rich email marketing integration.
8. A Proven Email Marketing Template You Can Utilise Today
We've walked you through the process of creating an email marketing campaign from start to finish for your childcare centre, and you should understand the process like the back of your hand!
The next step is to begin implementing these steps and begin sending emails to interested parents and families in order to increase enrolments.
If you're interested in a free download that will jump-start this process for you, review this guide from Airchild on how to win more families from your centre's tours.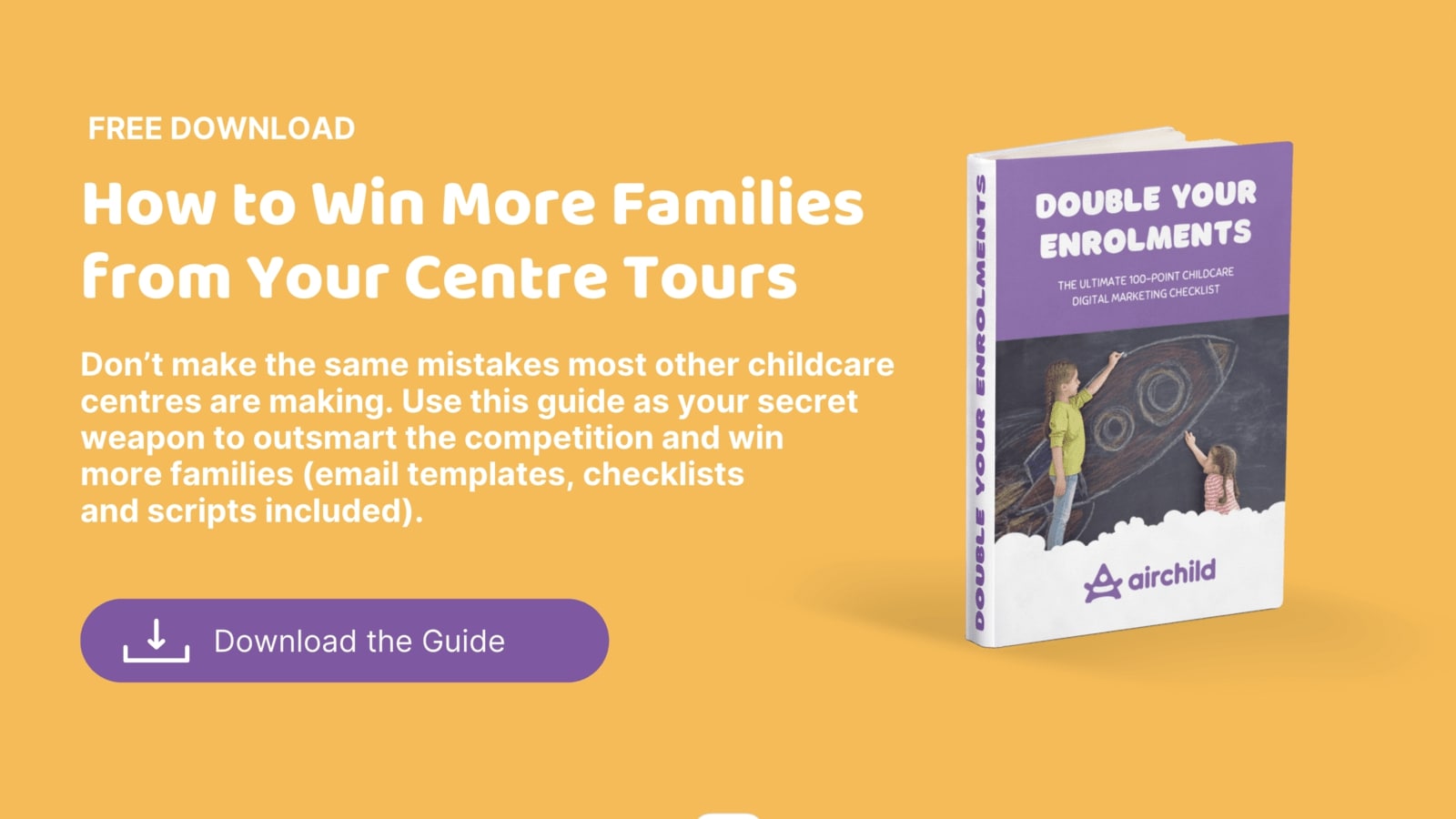 This guide will help you avoid mistakes other childcare centres make. It can be your secret weapon, allowing you to effortlessly outsmart the competition and win more families.
You'll also find information about the parent value journey and how you can build further relationships with parents and grow your childcare business faster than you ever thought possible. All of these examples and improvements are rooted in psychology and based on results from other organisations that were able to grow exponentially.
We hope you enjoyed this guide about email marketing campaigns and that you'll begin implementing these tactics and strategies today to grow your childcare business to its fullest potential.